Email marketing is alive and well. In fact, it's a dominant force online. According to the Channel Preference Survey, email is the preferred channel for permission-based marketing and sharing content.
Smart marketers love email because it keeps people in the conversion funnel. Not everyone is going to buy or become a lead right away. But when we give them a way to sign up, we can stay connected. That's why they call it "drip marketing." Once they're on the list, we can drip relevant content into their inbox, inviting them to visit again.
These are my top five email marketing secrets. I'm calling them secrets because very few companies use them all, even though they are all very easy.
Secret #1: Faster List Growth
Building your list may be slow. It takes patience and perseverance. The real secret to speeding up the process is the design of the email signup form. A great signup form meets these criteria:
Prominence
Make the signup box big and visually prominent. Use color to draw attention to it. It should appear close to your most valuable content. Try putting the form in several places on the site, including the About Us page.
Promise
If you don't tell people what they're going to get, why would they sign up? Tell them how useful the content is and how often they'll get it.
Proof
If at all possible, show legitimacy by showing how many people are already signed up. Got an investing website with 300 subscribers on your list? Tell visitors to "Join the hundreds of financial professionals who get investing tips every month."
Here's an example of an email signup form that does all three: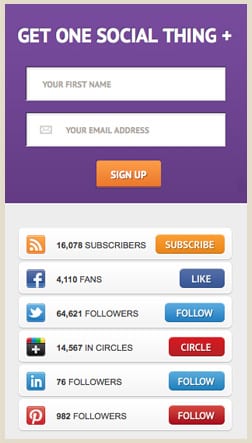 When we redesigned our form, our subscriber rate went up 1400%. You can read about it here: Email Signup Forms.
Secret #2: Better Open Rates
This one is easy: Make sure the sender name is a real, live human. If it comes from a person, we're less likely to delete it and more likely to open it, but you can still add the brand. When I send a newsletter, it comes from "Andy Crestodina | Orbit Media."
The worst sender name? "Do-not-reply@webaddress.com." That's just plain unfriendly.
Secret #3: Mobile-friendliness
We recently hit a tipping point. Earlier this year, mobile devices became the most popular place for reading email (source: Litmus). Be sensitive to the majority of subscribers, and send mobile-friendly emails.

It's not hard. Just follow these basic guidelines:
Make sure the main content is left aligned.
If your email template has a left-side column with images or navigation, move it over to the right. Phones have narrow screens. Don't make recipients scroll to the right to read things.
Use links, not buttons.
Not all of the recipients will download the images, so image-based buttons may not be visible. Use links (not buttons) for your calls-to-action, so they'll be visible to everyone on every device.
Watch your landing pages.
Hopefully, when mobile visitors click, they'll arrive at a mobile-friendly page!
Secret #4: Campaign Tracking in Analytics
Each link to your website should have tracking code. Before putting the links into emails, first run them through the Google URL Builder. Add a Campaign Source (such as "october-newsletter"), a Campaign Medium (such as "email"), and a Campaign Name (such as "email-marketing-article"). Here's a guide on how to use the Google Analytics URL builder.

Now you can track the traffic from email marketing campaigns easily. You can also watch the stats like bounce rates and conversions for each email. Is the bounce rate high? Add more links within the landing pages.
Secret #5: Thank You! Auto-Response
It's possible to set up a series of emails that are sent to new subscribers over weeks or months. Start with the basics. Take a few minutes to make sure that all new subscribers get an auto-response that's nicely written and includes links to social networks.
Visitors who subscribe have just told you they like you. The timing is right to offer more ways to connect. Thank you emails should link to Twitter, Facebook, LinkedIn, and Google+.
Shhh! Don't Tell Anyone.
Keep these secrets safe and use your new email marketing powers for good. You'll have a bigger list with better, more measurable results. Don't be afraid to increase frequency, and always, always keep the quality of the content as high as possible.
Care to share your own secret? We promise not to tell…