Starting a small business is overwhelming to say the least.
Between planning and organizing, managing employees, handling papers and finances, and every little detail in between, things can easily get chaotic and incredibly time-consuming.
The truth is, you need all the help you can get so you don't lose your marbles.
And with the abundance of online tools and apps available today for everything under the sun, it would be a shame not to take advantage of them and make your job as a small business owner easier.
That being said, their abundance is a problem in and of itself and it can become an extra chore to try to find the right tools for your business and pick ones that can actually help and not make your job even harder.
That's why I've selected just a handful of tools that can be of real help for any small business, whether you're just getting started or are already an experienced business owner.
So let's take a look at them!
1. Chat and Collaboration: Slack
Communication is key — with everything in life — and most definitely when it comes to a business as well. Making sure that everyone is well informed and on the same page is crucial to everything running smoothly and avoiding miscommunication problems that can be easily avoided.
That's why you need an app where you can all communicate with each other.
While Skype or WhatsApp are great for one-on-one conversations, if your team has more than 2-3 members, you should consider something a little more advanced like Slack.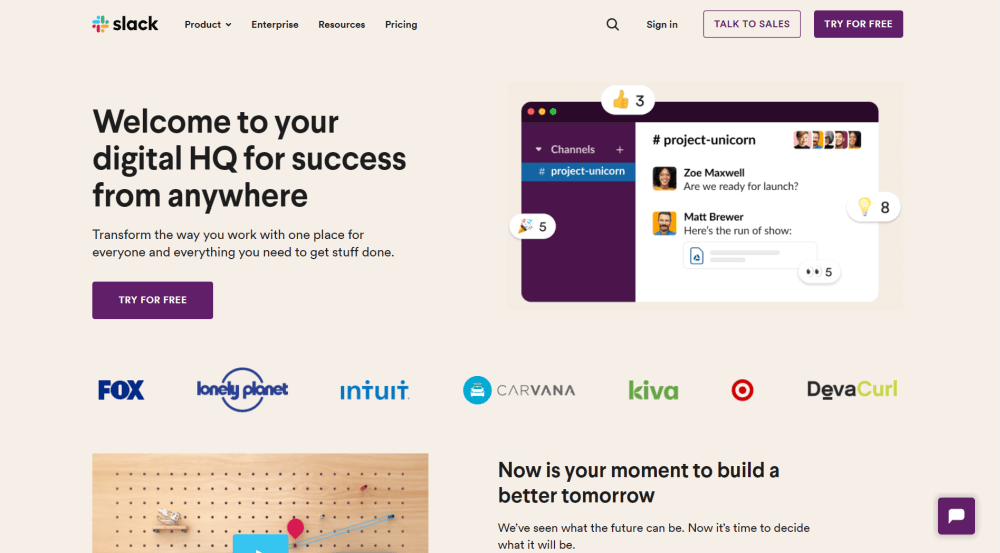 With Slack, you have individual and group messaging that make communication with different teams a lot easier. For instance, you can have a separate group for your design team or web developers, and you can also have video calls (just one on one with the free plan, and up to 15 teammates with the Pro plan).
But where Slack truly shines is its integrations with over 2,400 other apps. You can use Google Calendar, Zapier, Zoom, or a project management app like Paymo, Asana or Trello directly from Slack, which will make work a lot faster since you don't need to open each individual app.
For instance, you will be able to get appointment notifications from Google Calendar or task notifications from Paymo directly in the Slack interface.
Pricing: Slack offers a free plan and paid plans starting from $6.67/user/month.
You can definitely try the free version, but it has one kind of major disadvantage:
You only have access to 10,000 of your team's most recent messages. For a team of 20 people, that equals about a month's worth of chat history based on my own tests.
A few other Slack disadvantages:
The free plan allows only 10 integrations with other apps, but this might actually be enough depending on your team's needs.
The free plan only allows one-on-one voice and video calls, but if you integrate Zoom into Slack you've got that covered.
People complain the app doesn't work as well on Android, with some not being able to log in or receive notifications.
2. Video Conferencing: Google Meet
In a world where a lot of people freelance or work remotely, video conferencing has become a must for online meetings and even events.
More and more small businesses have been forced to turn to the online medium to communicate with team members, providers, business associates and customers.
If you need a video conferencing service for your business, consider Google Meet. While Zoom has gained a lot of popularity over the past year and is great for video conferencing, Google Meet might be a better alternative for a small business if you decide to go for the free option in particular.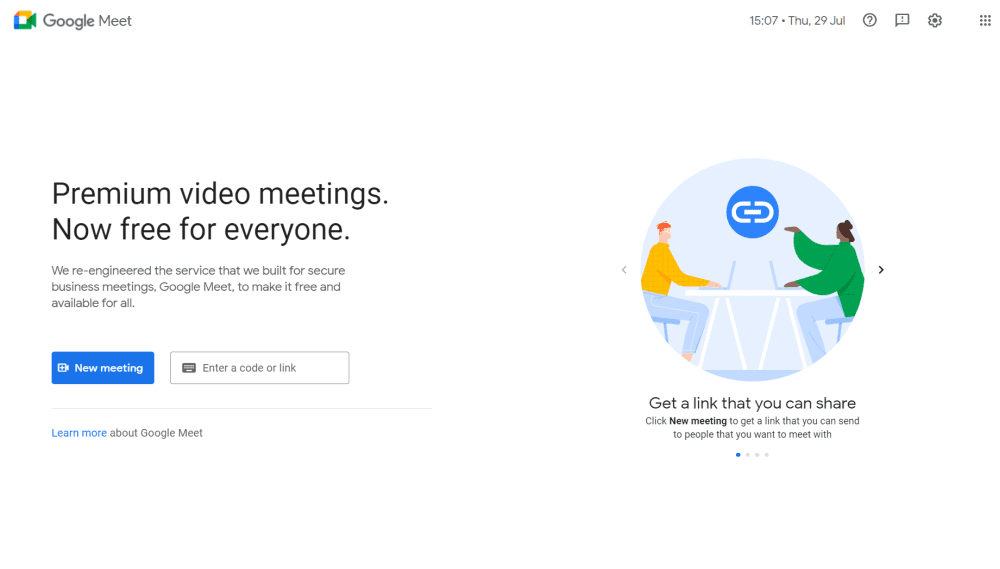 Unlike Zoom's free plan, which has a 40-minute time limit per video call, Google Meet's free plan has a 60-minute limit per meeting. This might make a difference if your meetings tend to prolong and you're trying to choose between the two free plans.
Google Meet also facilitates its use in conjunction with other Google services and you don't have to download an app to use it, you just sign in with your Google account.
Many users have expressed security concerns when it comes to Zoom, and they have addressed some of them in their 5.0 version, whereas Google Meet uses several security measures like multiple step verification and unique encryption keys, and adheres to IETF security standards for Datagram Transport Layer Security and Secure Real-Time Transport Protocol.
Both Google Meet and Zoom's free plans allow up to 100 participants to join a call. And they both work well with scheduling software, which saves time setting up meetings.
Pricing: The free plan might be more than good enough for your needs, but if you'd like more features like 24-hour meetings, 300 users with 30 GB cloud storage each, as well as custom and secure business emails, you can go for the Business Starter plan at $6/user/month.
3. Digital Publishing: Flipsnack
All small businesses need a catalog, brochure, or some other type of promotional material to show off their products or services.
Flipsnack is a cloud-based digital tool where any business can create a variety of digital documents: magazines, catalogs, brochures, flyers, reports, etc., and download them under different formats like PDF, JPEG, PNG, GIF, and HTML5.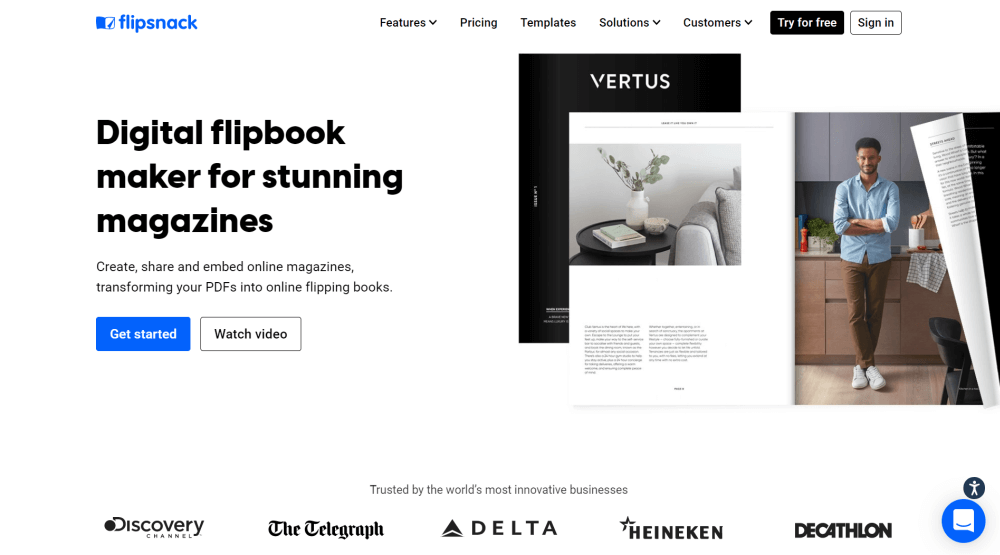 If you need digital brochures, with Flipsnack you can either upload a PDF document and use their Design Studio to make it interactive or create your own from scratch using one of their numerous design templates that you can personalize. Here is some advice on how to design your own digital brochure to best represent your company and attract clients.
Their templates are suitable for all types of business and event brochures in fields like fashion, health & fitness, school, travel, and marketing. Flipsnack's digital brochures are also ideal for real estate businesses since they offer MLS integration, which allows realtors to use the same template design and only change the information for each listing.
Pricing: Flipsnack offers a free plan, but it's pretty limited, and 3 paid subscriptions that are suitable for small businesses: the Starter plan at $14/month, the Professional plan at $35/month, and the Business plan at $79/month.
4. Project Management: Trello
Any small business owner will tell you staying organized and on top of things is a battle you have to win every single day. And it is almost impossible to do that just by using a simple calendar or to-do list, or even worse by trying to keep everything organized in your head.
As a business owner, you need something more complex like a project management app to stay organized, especially if (some of) your employees are working remotely, and Trello is the ideal choice for small businesses.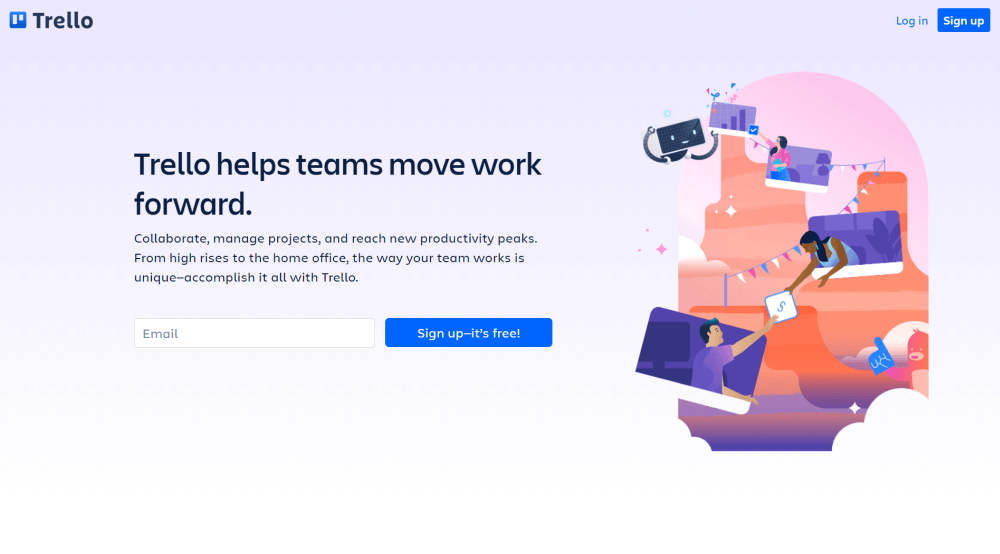 Trello has everything compartmentalized into cards, lists and boards that offer almost infinite ways to organize based on a business' own personal needs. Here are just some of the few things you can do with Trello:
Organizing to-do lists and planning your week
Keeping track of tasks with an overview on projects and resources
Goal setting
Team collaboration
Organizing and sharing files with collaborators by linking Google Docs to a card
Managing repetitive projects
CRM – you don't need a complicated and separate contact management or customer relationship management software as a small business, Trello's cards are enough to stay on top of your business relationships.
Pricing: Trello's free plan might be everything you'll ever need for your team, with unlimited cards, members, and storage, but if you need unlimited boards and other cool features, you may want to go for the Business Class plan at $10/user/month.
However, some users feel like Trello is too complicated to use and doesn't offer as much automation as they need. The learning curve is a bit steep and everyone uses it in a specific way, which might make team collaboration difficult at times.
If you find a project management tool too complicated, you can try something easier like Evernote or a more straightforward alternative like Paymo, which also offers other useful modules like invoicing.
5. Social Media Management: Buffer
If you own a small business — or any business, really — promoting it on social media is not really an option, but staying on top of posts and messages is a nightmare if you don't use a social media management tool like Buffer.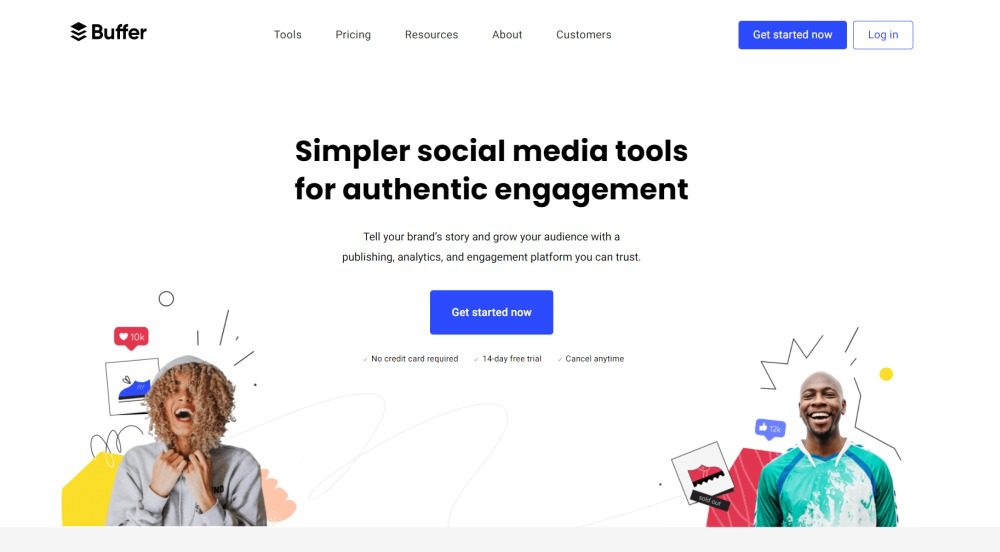 Buffer is ideal for beginners in social media management and allows you to:
Create and schedule posts across all your social media channels
Automatically schedule content
Access a neat and clean, easy-to-visualize dashboard
Access messages from all social networks in one single inbox
View social analytics reports
All of these can save you a lot of time and give you great insights into your audience and their preferences with regard to your product or services, the time of day you post, and the content they find relevant.
However, some users complained about the price being too high, bad customer support, and repeated errors and posting fails, so if you're looking for alternatives that might be more suitable for your business, check out this list of social media management tools.
Pricing: Buffer offers two separate sets of services, for Publishing and Analytics. When it comes to Publishing, both the Premium and Business plans, starting at $56 and $85/month respectively, work well for small businesses.
The Premium publishing plan offers access to 2 users and 8 social channels, while the Business plan offers access to 6 users and 25 social channels. If you need in-depth analytics as well, you will need to add on one of the Analytics plans, starting at $28/month for the Pro plan. The Premium analytics plan starting at $40/month offers access to Shopify and Instagram Stories analytics, as well as a few extra reporting features.
6. Email Marketing: Mailchimp
There are a multitude of ways to promote your business nowadays, with social media being one of the most significant, but good old email remains the preferred marketing channel for 73% of consumers.
Email marketing platforms like Mailchimp help you engage with your audience by creating personalized emails that make you look very professional.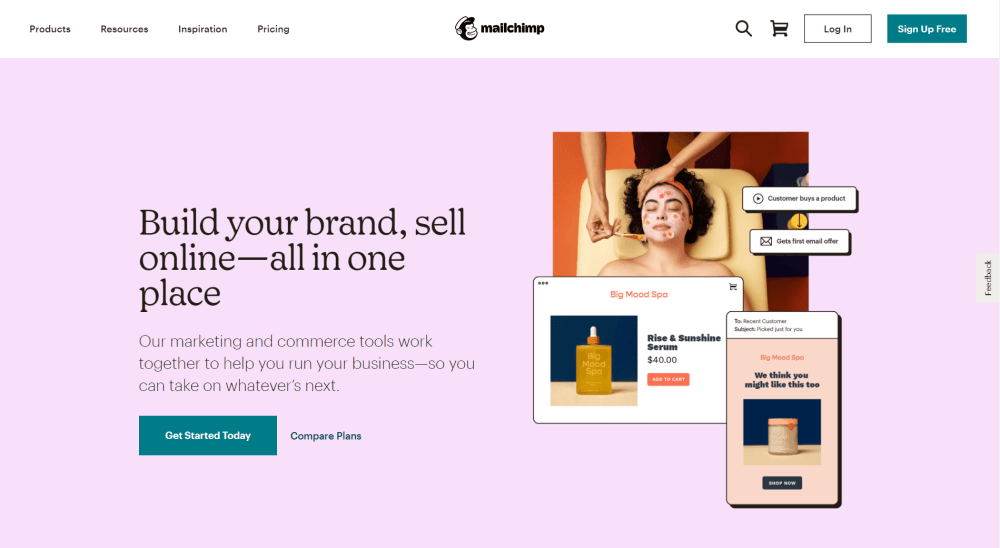 With Mailchimp you can:
Easily create emails from pre-designed templates
Schedule emails and automate offers and promotions
Send automated welcome emails, newsletters, order confirmations and abandoned cart emails
Store and manage images and files in Mailchimp's content studio
Connect your online store to Mailchimp to send customers product recommendations based on what they've bought before
Easily craft social media posts from your emails
See what's working and what not with real-time analytics
With successful email marketing — because we have all seen how poorly it can be done — you can build meaningful and long-lasting relationships with your customers and hugely increase your return on investment.
Pricing: Mailchimp offers a free plan, but in my experience the $9.99 Essentials plan or the $14.99 Standard plan are more suitable for small businesses that need more customization and automation.
7. Accounting and Invoicing: FreshBooks
One of the daunting aspects of owning a business is having to deal with papers, money and invoicing — unless you're an accountant who actually likes handling finances and books, in which case, well, thank you for doing the dirty work for the rest of us.
But sometimes even your accountant could use some help to make sense of your papers, which is where an invoice and accounting software like FreshBooks steps in.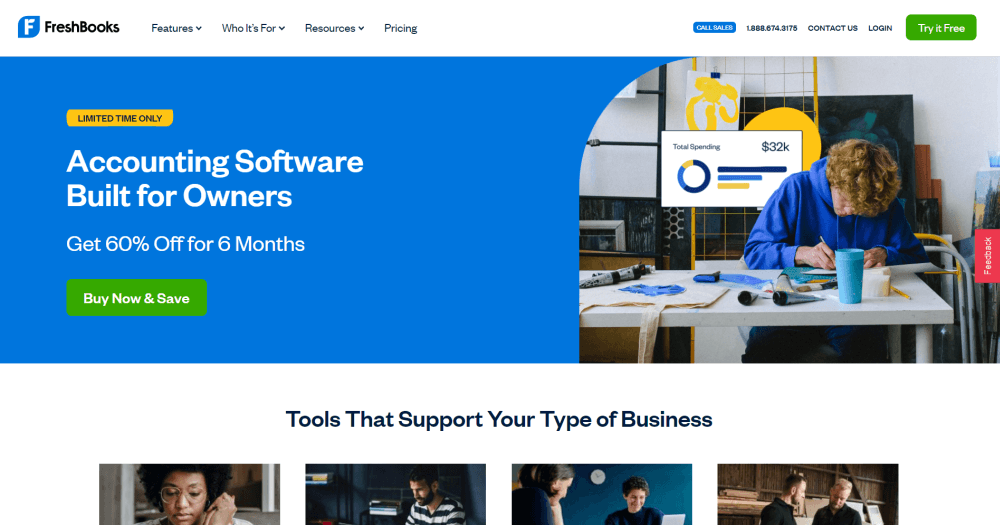 FreshBooks is an easy-to-use double-entry accounting software that supports accounting features like invoicing, estimates, reports and expenses, as well as extra features like time tracking and project management.
However, some customers complain that the time tracking feature is pretty confusing to use. People would also like to see a mid-range plan, since there is a big jump in the monthly fee from 50 billable clients to unlimited.
Pricing: FreshBooks offers a Lite Plan at $15/month with 5 billable clients, a Plus plan at $25/month with 50 billable clients, and a Premium plan at $50/month with unlimited billable clients. They are currently offering 60% off on all their plans for 6 months (limited time offer).
If you need free accounting software, consider Wave or Sunrise, especially if you're at the beginning of your business journey and don't have a lot of money to spare. You can upgrade to a more feature-oriented accounting software like FreshBooks anytime.
8. Help Desk for Customer Support: Freshdesk
Customer service is king when it comes to a business' success, and I believe we can all agree on that. A customer that feels listened to and that can receive the support they need will definitely remember and use your business again.
That's why help desk software like Freshdesk is pretty much essential on your website if you're trying to sell a product or service.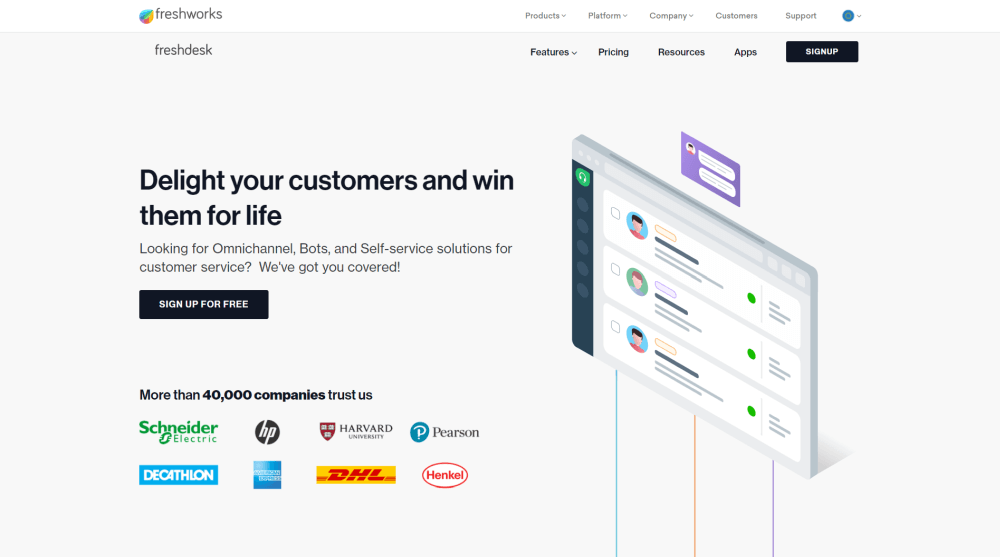 You might be under the impression that you're offering impeccable customer support services via email or social media, but the truth is you don't know how many people leave your website because they're not satisfied with something, or something isn't working properly, or they have questions they need answered fast before deciding to buy.
With Freshdesk you can:
Prioritize, categorize and assign tickets
Automate repetitive helpdesk tasks
Create a knowledge base and forums so that customers can help themselves before writing to customer service
Share ownership of tickets and work together as a team to resolve customer issues
Unify all support-related communications on a single platform
Pricing: Freshdesk offers a free plan with an unlimited number of agents to take care of tickets, which might be more than enough at the beginning. If you find you need more features, you can easily move up to one of their more advanced plans at $15 or $35/agent/month.
9. Mind Mapping: LucidChart
When you own a business, the ability to visualize things clearly is extremely important in the process of planning, building strategies and defining what's truly important for your company.
A mind mapping app like LucidChart can be of great help in visualizing how the elements you're working with connect, what you want to accomplish in the future, what the most important categories in your website are, etc.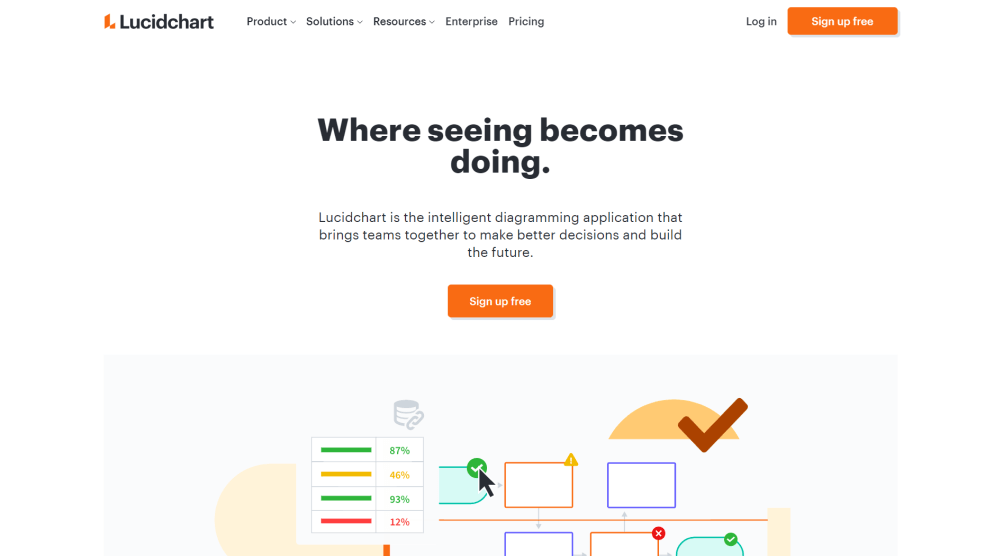 In other words, mind mapping is brainstorming ideas and grouping them together in a graphic representation where you see how everything is connected to everything.
LucidChart offers the possibility to create a very simple flowchart or a very complex diagram, with access to easy-to-use built-in sample maps.
The app also offers team collaboration in real-time and data linking that allows  you to connect diagrams to live spreadsheet data. It integrates with Google Drive and hundreds of other apps.
Pricing: LucidChart offers a free plan, but it has only 3 editable documents, so you will most likely need the Team plan starting at $9/user/month.
10. Website Performance: Google Analytics
If you're new in the business, you may not have heard yet about Google Analytics. The tool is widely considered mission-critical for any online business.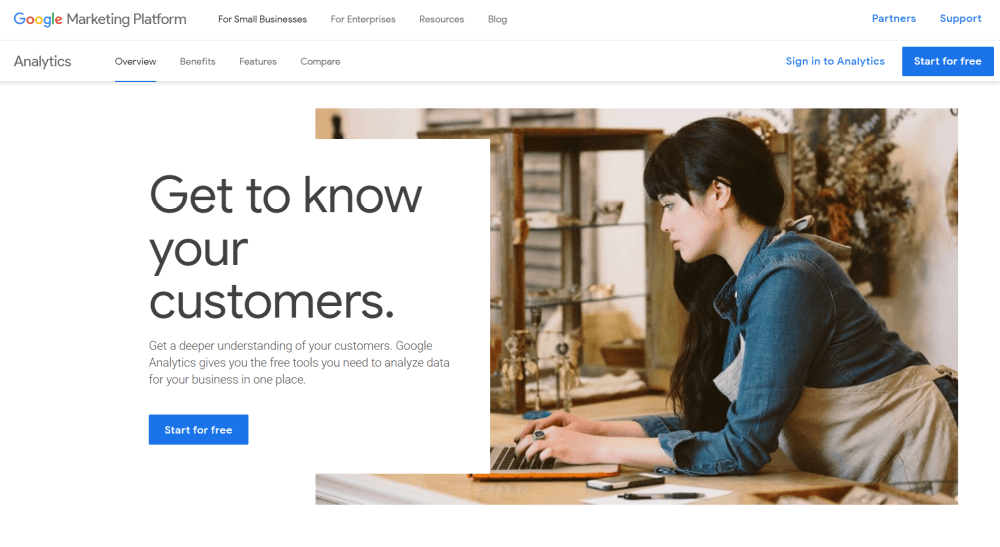 It is important to ensure that your website works in an efficient manner and that you know essential data about the web traffic on your website. And with the last update, there's a big focus on statistics for mobile apps as well.
With Google Analytics you can improve the website content and visitor experience, as well as track sales, leads, or anything that is considered the end goal of your business.
There are other analytics tools out there, but this one is free — small businesses can use the service without paying a monthly charge — and according to this report, it's used by more than half of all websites.
Here are a few of the most important metrics you should be tracking no matter what industry you're in:
How many visitors come to your website (new or returning)
What types of devices they are using
Where you get the traffic from
How much time visitors spend on the most important pages
How many pages they look at in a session
Being aware of these metrics will lead to better long-term strategic decisions, and can also help in identifying possible problems that can limit the growth of your business.
Pricing: Free for small businesses.
Do you use any of these tools? Let us know in the comments below and tell us about your personal experience with them or any other digital tools you've found helpful for your small business!