Your marketing team is in charge of tons of different tasks. From planning to execution to measurement, keeping busy creatives on track is no small feat.
You're also under pressure to get the maximum return from your marketing investment. So, you hire top talent and meticulously plan your strategy to achieve the desired results.
However, one of the best ways to achieve this goal may be something you haven't considered. It's implementing a clear project management process that keeps your marketers happy, organized, and productive.
Investing in project management helps teams:
Get more organized. Proactively planning projects keeps teams focused.
Be more efficient. In an age of distraction, the ability to focus is a competitive advantage.
Be more successful. The end result is getting more and better quality work done.
Those benefits sound great, but in order to realize them, you'll need a framework to put in place. Take a look at three different options (plus which one has been most successful for our team).
Lean project management
Developed by Toyota in the 1950s, lean project management is all about maximizing value while minimizing waste. In a conference paper by the Project Management Institute, Aziz Moujib describes the process as providing "what is needed, when it is needed, with the minimum amount of materials, equipment, labour, and space."
In the marketing world, this means focusing on the activities that bring in the highest results and scrapping ones that don't carry a good enough ROI.
The ultimate aim is improvement and fine-tuning. Lean project management considers every process in an organization and looks for ways to optimize them. As a result, marketing teams that use this method can see:
Reduced project lead times by scrapping resources that aren't needed
Better bang for your buck by focusing on the most ROI-worthy activities
Increased efficiency by constantly optimizing and fine-tuning dominant activities
Increased quality by ensuring every activity carries as much value as it can
In short, your team will drive better results in less time and at a lower cost. That'll help grow your business, keep your boss happy, and even make
For information on how to implement lead project management, check out this post and this post.
Waterfall project management
The waterfall project management methodology also stems from the manufacturing industry. Its approach sees projects completed in distinct stages, where the next step can't be started until the previous step is finished. More importantly, once a step is complete, you can't go back and work on it.
It's easy to see how this methodology originated in the manufacturing sector. It's impossible to put up a drywall if you haven't framed a house, just like you can't un-pour a concrete foundation once it's dry.
The process starts with a big, umbrella plan and each task is carried out in a linear fashion.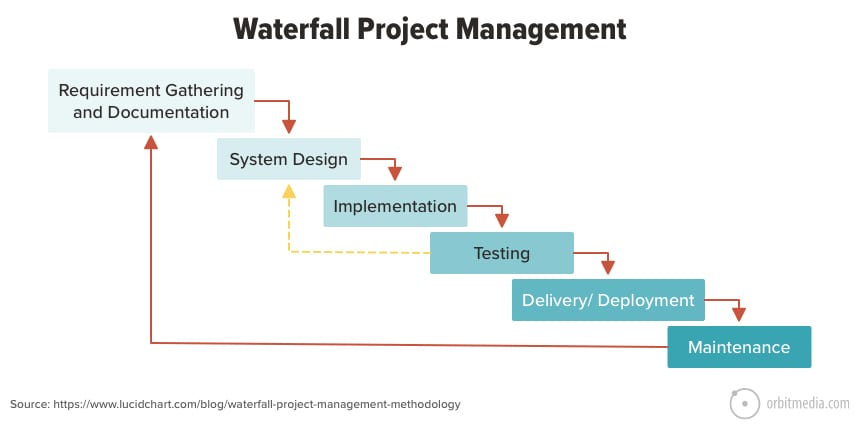 There are several benefits to waterfall project management:
It shows concrete progress in a simple, easy-to-digest manner. Clear milestones that make it simple to understand whether a project is moving forward on schedule.
It makes project management easy. Thanks to the methodology's sequential nature, it's easy to see where a project is at any given time
It saves time and money. The thorough documentation required at the start of a project means that marketing teams are better prepared to run a project the right way on the first try
For marketing teams, the appeal of waterfall is in its simplicity. Since it's easy to understand and apply, it's also easy to stick with it.
This post from LucidChart provides a great starting point for implementing the waterfall project management methodology.
Agile project management
Agile has its roots in Agile software development. As a software company, it made sense for our marketing team to adopt agile practices too.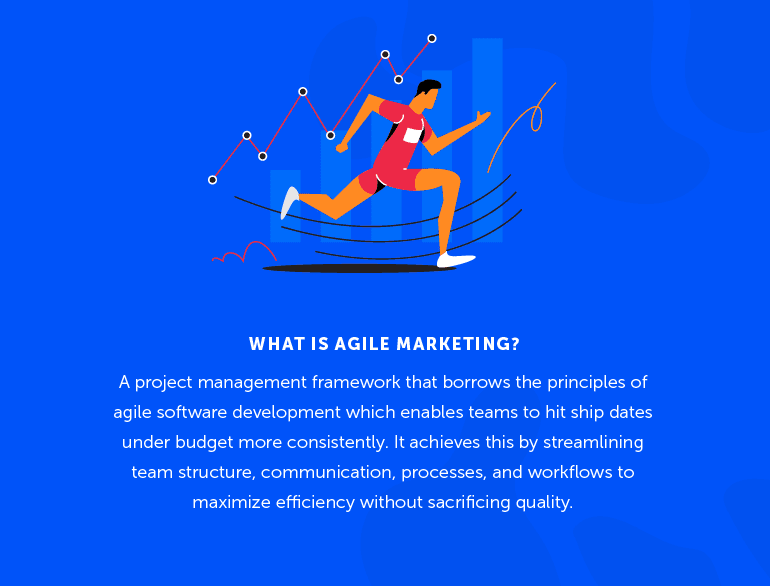 In a marketing context, agile project management breaks down projects and campaigns into segments known as sprints which are then prioritized in terms of importance. It also breaks down silos by creating cross-functional teams, where members from different departments meet and collaborate daily to execute projects.
Not only does this improve marketing outcomes, data backs it up. 87% of CMOs that have implemented agile marketing report being more successful.
Part of agile marketing's appeal is its flexibility, as it can easily be adapted to fit a team's needs. In fact, according to AgileSherpa's third-annual State of Agile Marketing report, 47% of agile marketers use a combination of agile approaches. The report found several reasons marketers choose Agile project management practices, including:
51% want to improve the quality of their work
48% want to make their teams more productive
46% want to prioritize their most impactful projects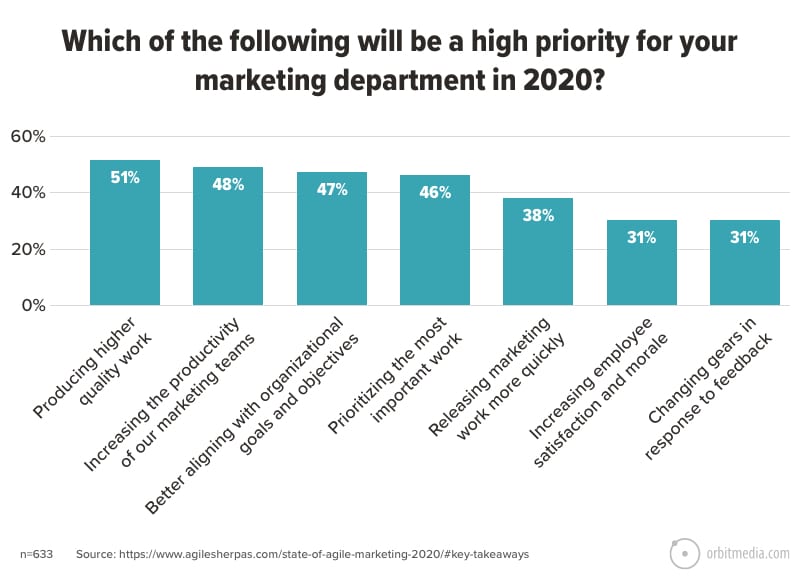 Agile project management also comes with plenty of benefits for marketing teams:
Increased innovation by breaking down silos with cross-functional teams that span multiple departments
A keen focus on customers by using data rather than assumptions to drive decision making
Quicker to see ROI, and more importantly, determine where the biggest ROI is coming from
By helping teams be responsive to change while streamlining workflows and remaining customer-focused, agile not only helps teams work more efficiently, but it keeps them in front of industry shifts and changes in customer behavior.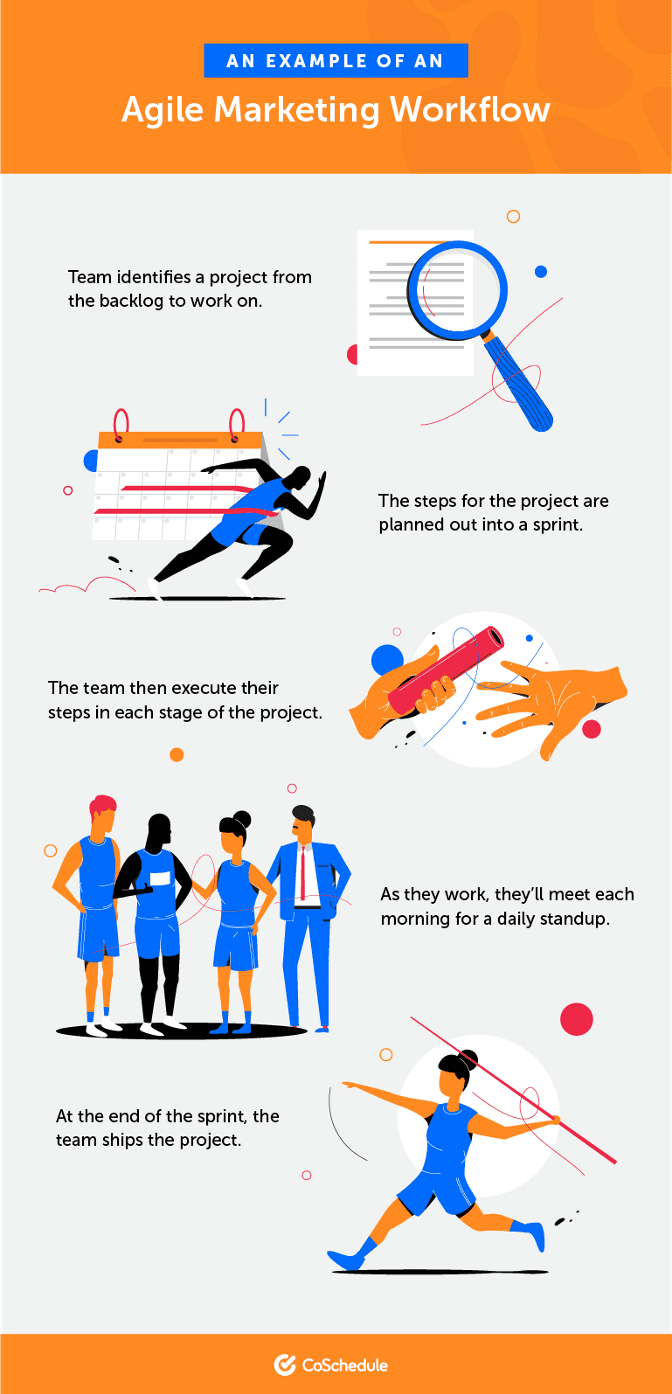 Why should marketers consider agile versus lean or waterfall project management?
There are a lot of ways marketers can manage marketing projects.
However, even despite its roots in the software industry, agile methodologies hold some unique benefits for marketers.
Lean and waterfall might help you get more work done. They might even make getting work done easier and improve your results too. These methodologies have their adherents and they're shown to be effective.
What sets agile apart, however, is increased focus on customers. If you produce more work of better production quality, it won't matter much if it isn't the right content that prospects and customers need most from you.
By centering activity around performance-based data, marketers can not only work more efficiently, but know they're working on the right things to achieve the right goals.
Which project management methods will you apply?
Keeping marketing teams organized is no easy task, particularly if you have a large team on hand with multiple different roles. Which of these project management methodologies will you implement to make your team more successful?