Doing more with less has never been more important. Content strategies, marketing, sales, and many other areas of business require a lot of time and intentionality. With COVID-19, there are additional barriers being thrown at professionals.
However, anything is possible if you have the right tools and processes to help you use your time more wisely and efficiently. The problem lies in narrowing down your options. This in and of itself, can be overwhelming and a waste of valuable time.
I've been running a publication for a year now, and these are the tools that have allowed me to manage tasks, collaborate with others, and even minimize distractions.
1. Calendar
website | scheduling, calendar
Whether you want to meet with a potential client or your team, finding an ideal date and time that works for everyone can be a time-consuming process filled with lengthy email threads.
Calendar is a handy tool that eliminates these lengthy email threads. Simply share your availability with the other participants, and they can select a date and time that works for them.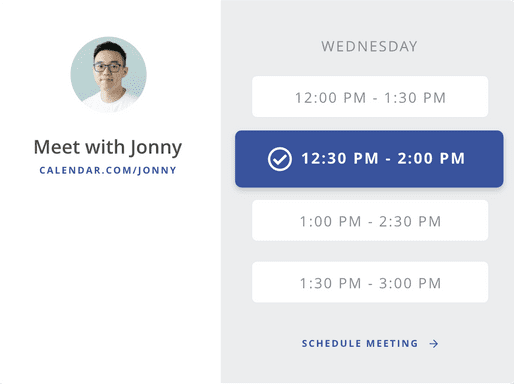 Once a time has been chosen, the event is added automatically to each party's calendar. Before the meeting, automatic follow-ups are sent out to everyone attending so that no one forgets.
The software also uses the power of machine learning to make smart suggestions like time and location based on your previous meetings. This saves you from entering in the same information over and over again.
Free version: Free for personal use and small teams.
Paid version: $8/month for customized personal use. $6/month per user for customized team use.
2. Zapier
website | workflow, automation, project management
You could download dozens of tools to automate workflows. Or, save yourself the trouble and download Zapier. This nifty app connects all of your existing apps to automate your most common workflows. Below are a few options for app automation pairings.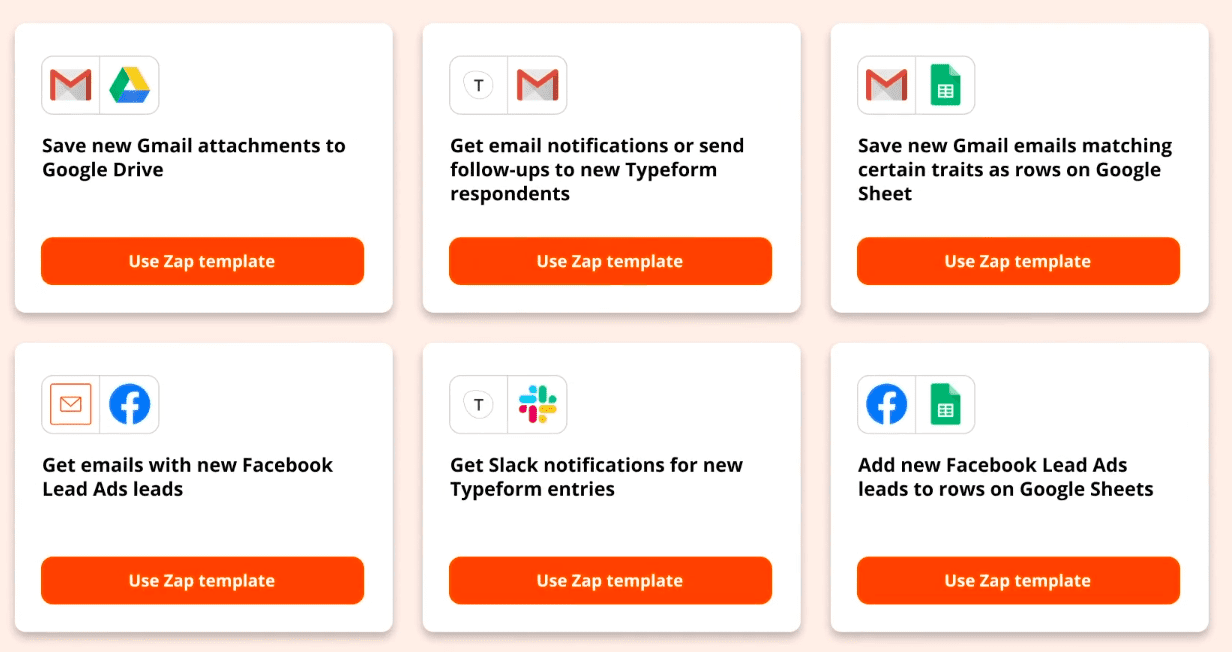 Here's an example of what this looks like in practice: If you just published a new WordPress blog post, Zapier will automatically post it on Facebook. Or, if there's an upcoming event in your Google Calendar, Zapier can send you an SMS reminder.
These automated workflows save you and your team time. Those little commands aren't much but they add up, and having software handle the mundane tasks opens up your time for bigger projects.
Considering that Zapier has more than 1,000 apps to integrate with each other, the possibilities are endless.
Free version: Up to 100 tasks/month
Paid version: Starting at $19.99/month for the Starter package with 750 tasks/month. There are two middle packages, and the largest is $599/month for the Company package with up to 100,000 tasks/month.
3. Asana
website | project management, workflow
With a team, Asana can be a real lifesaver.
Asana is a project management app that can organize and manage your team's plans, projects, and processes.
Asana lets you set priorities, assign tasks, and establish deadlines for each member of your team. You can view everyone's progress to make sure that tasks are completed on-time.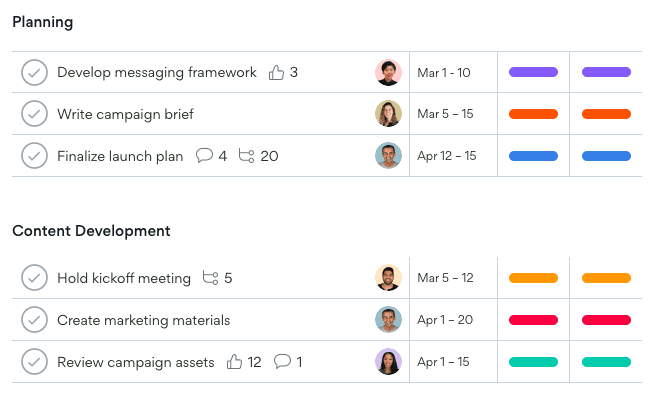 One of the unique features of Asana is Timeline, a handy visual aid that displays how tasks and deadlines connect. This allows you to catch and address any issues before they turn into major obstacles.
It's also an effective way to motivate your team since they can see how their work fits into the bigger picture and adds value to the company.
Free version: Free for personal use or a small team
Paid version: Starting at $10.99/month with customizable features. $24.99/month for the business plan.
4. RescueTime
website | time management
Do you want to know how much time you spend on your computer or smartphone? If so, you might want to give RescueTime a try.
This tool runs in the background of your computer and records the time you spend on various websites and apps. After you've seen how you're spending your time online, you can set daily goals to help you become more productive. You'll then receive weekly email reports of your progress.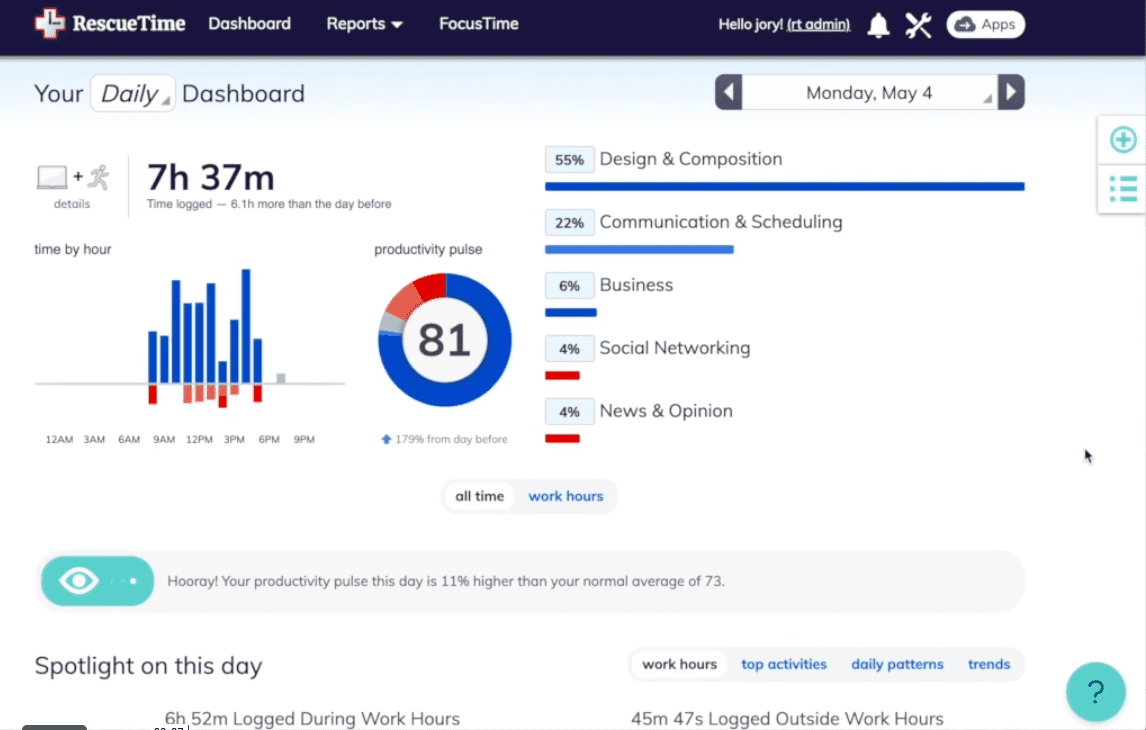 If you upgrade to the premium version, RescueTime will also block distracting websites that frequently cause you to waste time. It will also send you notifications on how much time you've been spending on specific tasks, letting you know if it's time to move to another project.
Free version: 14-day trial
Paid version: $6.50/month
5. SaneBox
website | email management, time management
Make no mistake, emails can definitely kill your productivity.
Sporadic emails can interrupt you from completing other tasks, prevent you from following a routine, and make you feel stressed. With a tool like SaneBox you can finally take control of your inbox.
SaneBox manages your emails by analyzing your activity.
Then it applies automation processes so that only the most important emails are delivered to your inbox. For the emails that do not require your immediate attention, they'll be sent to either a "SaneLater" or "SaneArchive" folder.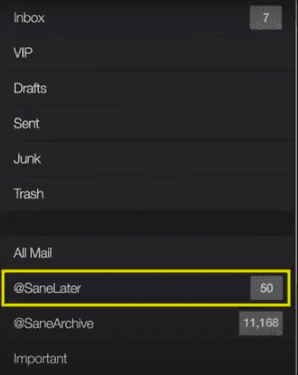 You can also create and enable other folders, such as "SaneBlackHole." Whenever an email from a specific address is sent into the "hole," all future messages from that sender will go directly to your trash folder.
By greatly reducing the number of emails you receive each day, you no longer have to worry about constant notifications killing your productivity. Even better, you can finally achieve inbox zero.
Free version: 14-day trial
Paid version: Starting at $59/year for one email account. $99/year for two email accounts, and $299 for four email accounts and unlimited reminders and attachments.
6. Miracle TimeCube
website | time management, productivity, workflow
It's no secret that if you want to be more productive, you need to block out distractions while working on your most important tasks. The thing is, you can only focus for so long. That's why the Pomodoro Technique is so effective. With this method you work in 25-minute blocks with 5-minute breaks in between. After repeating the cycle four times, you take a 20-minute break.
While there are apps and timers or alarms you can use on your phone, the Miracle TimeCube is a better option.
It's basically a specialized kitchen timer that contains four different time durations on each side. When you need to work on something important, just place the cube on your desk and set it for 25 minutes. You then flip the cube to 5 minutes for your break.
This may not seem revolutionary, but relying on this cube means that you don't need to use your phone's timer.
This means you can put unnecessary devices away until you're done with your most important work. Since your phone is out-of-sight, you won't be tempted to check your texts, emails, or social media notifications.
Price: $30 + shipping and handling
website | productivity, workflow
The average business user has almost 200 different passwords.
That can hamper your productivity if you struggle with remembering passwords or find yourself resetting your passwords often. Even if you've stored them in a doc or notepad, you're still wasting time looking up your various login combinations.
With LastPass, this is a problem of the past.
This program remembers all of your passwords and will autofill your login information for you. Concerned about security? LastPass not only generates unique passwords that follow the best security practices, but it also encrypts them and uses multi-factor authentication.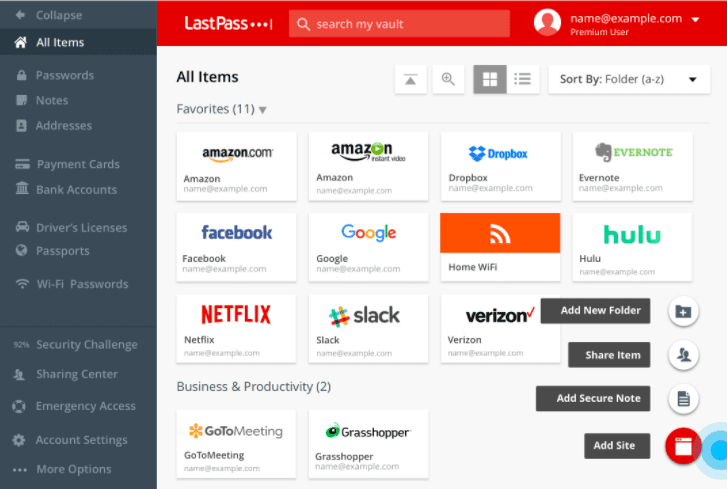 Free version: 30-day trial
Paid version: Starting at $3/month for personal use. $4/month for families.
8. Nirvana
website | project management, workflow
Designed for Getting Things Done, this cloud-based task manager captures, clarifies, organizes, and analyzes what matters most in your life.
This lets you create actionable lists based on your priorities. It also gives you space to capture your thoughts in preparation for the next day.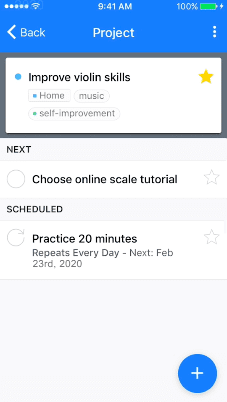 With Nirvana, you can create projects and recurring to-do lists, with the option to take action or hit snooze. You can also set due dates, send out your focus list via email, and tag contacts.
Free version: Free for personal use with limited features.
Paid version: Starting at $5/month. $29/year or $49/forever.
9. Buffer
website | project management, social media
Managing social media can consume a lot of your time, which takes away from higher priorities. One way around this is to outsource this task.
If you're on a tight budget, this may not be feasible. If this is the case, a great alternative is batching your posts. "Batching" is when you dedicate an hour or so each week to schedule all your social media posts.
Buffer connects your social media accounts and allows you to schedule specific content at specific times. This way you no longer have to individually schedule each post. Hootsuite is another alternative for easy to manage content scheduling. Your time and effort can be focused on content creation rather than manual publishing.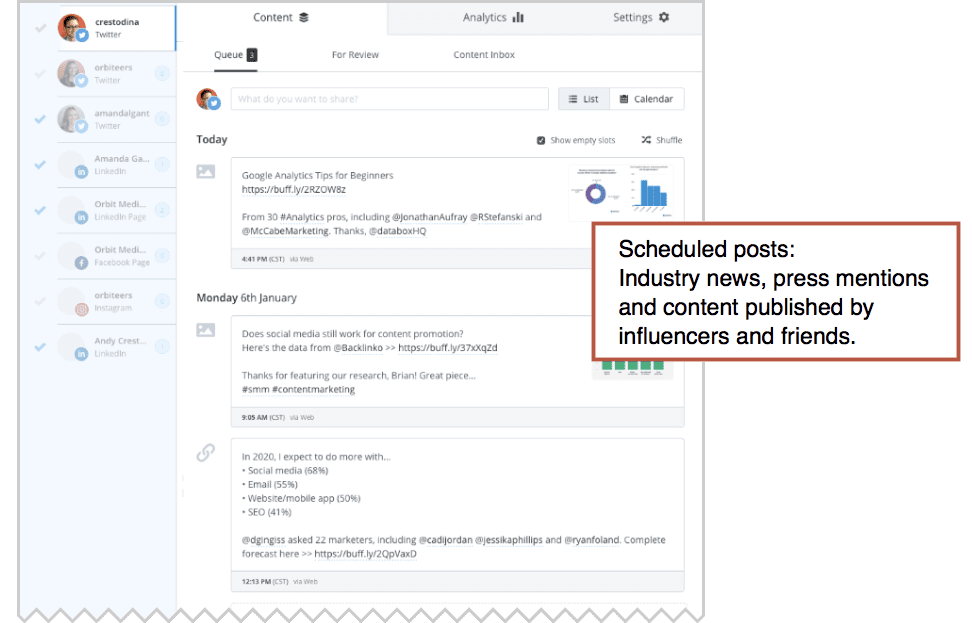 Another feature worth mentioning is that with the Buffer bookmark. You can share any webpage with just a click of the button.
Free version: 14-day trial
Paid version: Starting at $15/month for one user and 100 scheduled posts. $65/month for two users and 2,000 scheduled posts. $99/month for six users and 2,000 scheduled posts.
10. Noisli
website | workflow, relaxation
If that background noise in your workspace is interfering with your concentration, you may want to download Nosli.
With Noisli you can drown out those distracting background sounds and replace it with ambient background tunes of the coffee shop, rain, wind, or waves. These soothing sounds can help you focus on what's in front of you, preventing you from getting distracted by every passing noise.
You can customize the sounds you listen to, creating the perfect soundtrack specifically for you. Not only can this help you be more productive at work, but you can also use sounds to help you relax or even fall asleep.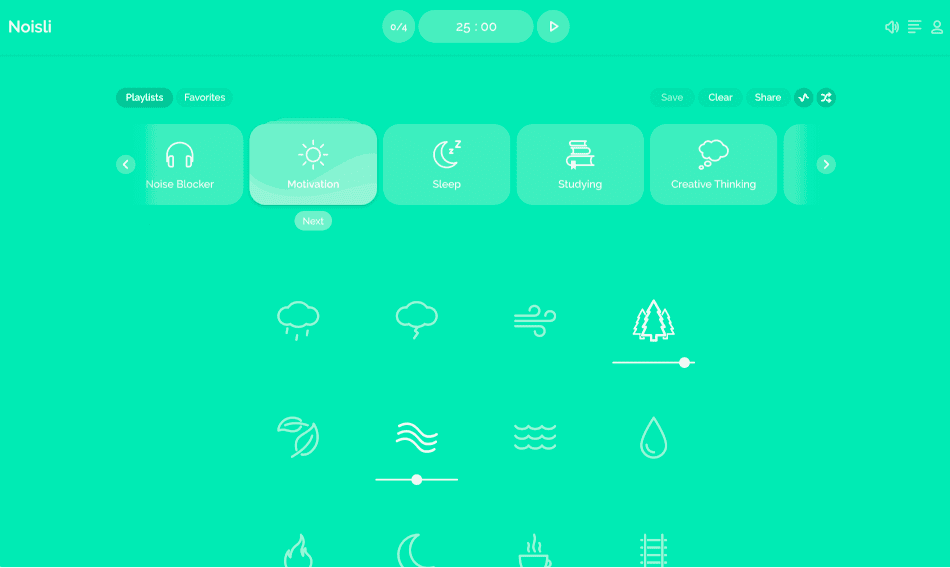 Free version: 1 user with 1.5 hours of streaming per day
Paid version: Starting at $10/month for one user. $24/month for two users.
11. Evernote
website | workflow, productivity, notes
Taking notes has long been linked to productivity. Instead of carrying around a clunky notebook, log on to Evernote.
Note taking helps you recall important details that are crucial to your projects and assignments. Evernote allows you to keep notes on your favorite device, both on the go or in meetings. Notes can be organized by topic for easy access when needed.
With an online notebook, you can even add links and images to personalize and add depth to  your notes. This allows you to further visualize the details you hope to remember.
Free version: Simple note-taking.
Paid version: Starting at $7.99/month for one user. $14.99/month for two users.
12. Looker
website | time management, productivity
Data can save you a lot of time and money. You just need to know where to look.
When you have data in front of you, you can make better decisions for your business. Looker provides custom analytics to get you the information you need in real time.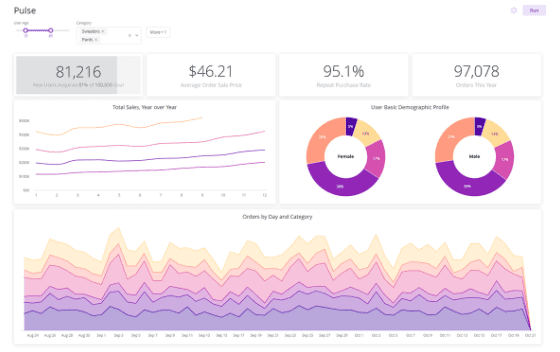 Whatever your goal is, Looker can provide data to help you achieve it. Whether it's customer acquisition or improving operations, this is a tool that's definitely worth experimenting with.
Paid version: Request a quote
These wonderful programs can take your productivity up a notch. Which ones will you be exploring further?