Content Jam 2013 Recap
On a gray October morning in Chicago's South Loop, 200 marketers got together. It was Content Jam, our content marketing conference. It was a day of teaching and learning, a day of old friends and new.
This was our second year, and we did things a bit bigger, with nineteen speakers instead of four. The new format didn't allow for attendees to join every session, but as promised, the presentations have been uploaded. You can view them all at the bottom of this post. We'll be adding more as they roll in.
Content was created…
Two graphical reporters in the house, George Berlin and Lin Wilson, captured sessions as sketchnotes. Tony Gnau from T60 Productions was there shooting video.
And some of the pictures we took are priceless. Here's a batch from Orbit and from Mightybytes.
In the few days since the event, attendees have been publishing recaps. Here are a few:
Know of an event recap we missed? Let us know, and we'll add it here.
Friendships were made…
Content marketers are social, of course, both online and off. Our friend Kyle Akerman helped us all connect on Twitter with this list of all the attendees. Mana and the team at Lightspan put together this fun Storify Event Recap.
By early afternoon, the #ContentJam hashtag was trending on Twitter. Congrats people!
We gave back…
The organizers – Story Studio, Mightybytes, and Orbit – are all B-Corps, so we think about sustainability in all things. A portion of the registrations are being donated to Barrel of Monkeys, which teaches creative writing workshops in Chicago Public Schools. We also did our best to make it a low-impact event, reusing and recycling whenever possible. Even the buttons in the Button-O-Matic were made from recycled steel in Busy Beaver's solar powered button factory.
And we're very grateful…
It took a lot of time, energy, and help to put it all together. So we owe a huge thanks to everyone who made it possible.
Columbia College for lending us their home.

Protein Bar, our delicious lunch sponsor.

Howells & Hood for the refreshments served to our speakers.

Community Media Workshop for organizing the space.

All the amazing volunteers

The out-of-towners! So honored to see friends from Pennsylvania, Florida, Alabama, California, and Ontario.
Also a special thanks to Amanda Gant, the event producer, wrangler of cats, and voice of reason. Thank you, Roger!
Content Jam 2014?
Yes, there will be a Content Jam next year. We've already got a few new ideas, and of course, we're open to suggestions. Hope to see you all there!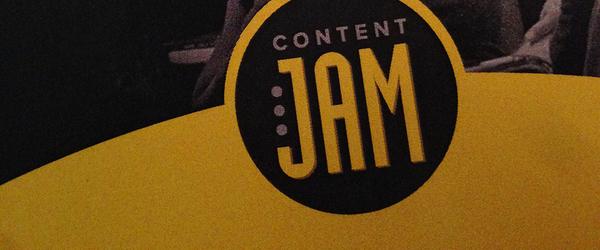 Content Jam 2013 Presentations
Here are a list of all of the speaker presentations from Content Jam 2013.
Successful panhandling is a lot like content marketing; it's reaching a jaded audience in a saturated market by finding a message that jumps out and moves you t
Keyword Research Andy Crestodina @crestodina #contentjam
The future of content marketing, a presentation created for Content Jam
My presentation at Content Jam
Segmentation, Campaigns and Goals The Three Keys to Cracking the GA Code
You tell your story best, right? Not always. Your existing clients and customers can provide inspiration for a plethora of new and powerful content. That is, if
Marketing automation basics Overview of types of systems; how people choose Performance metrics to measure Process overview and essentials of lead scoring
Making Sense of Performance Metrics Presented By: Kate Eyler-Werve at Content Jam 2013 in Chicago.
This presentation compares Lean Startup principles to content life cycles and shows how Chicago web company Mightybytes used these concepts to build a content-d
Story Science: Engaging & Keeping Your Audience Jill Pollack ©2013 All Rights Reserved. StoryStudio Chicago Ltd.
These are the slides I presented at Wordcamp Chicago #WCCHI on June 29, 2013 and again presented at #ContentJam on October 17, 2013 about specific link building

All you want to know about email marketing from Content Jam. Content Jam is a one-day conference for people who create or curate content for the web. Experts...
All Systems Go: Build, Measure and Learn with Marketing Automation 101 Steve Susina Director of Demand Generation Services Crain Communications / Business Insur
Jodi Navta, VP Marketing and Communications www.coyote.com Content Jam 10/17/2013
Cultivating A Fanbase: How To Turn Customers Into Brand Advocates with Jill Salzman