Kyle Russell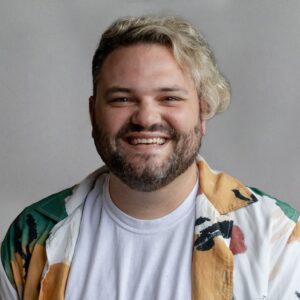 ---
What do you get when you combine Mississippi hospitality, big-city wit, and glitter? This guy.
Kyle is an avid learner and perpetual student of life. He's always the one ready to jump in and help solve problems. One of those "I might not know right now, but I will by the end of the day" types, ya know?
His journey into design has been unconventional, but thorough and learned. He's worked in multiple platforms including web design, social media advertising, video editing, content creation, illustration, and branding – with some top brands spanning several industries.
Kyle was born and raised on the Gulf Coast but has called Chicago home since 2007 after graduating with a BFA in Performance from The University of Southern Mississippi. When not designing, Kyle is performing with his group, The Feathered Beaus, podcasting, or world-traveling with his husband.
Fave Places
My Couch
Paris
Diversey Harbor
Regal Webster Place
Any beach
Interests
ALL pets
Death Becomes Her
Craft Cocktails
Queer Culture
Spotify Playlists

She is?? ::GASP::  These are the moments that make life worth living.
Interested in becoming an Orbiteer?
You're strategic, creative, collaborative and fun. You play well with others and enjoy challenging projects. You're transparent and appreciate processes. Above all, you love to make clients happy.