The answer is yes.
You've heard about GDPR, a privacy law adopted by the European Union that went into effect on May 25th. If you're not familiar, you can read all about it here.
There's a new default setting in your Google Analytics that you should update referred to as "Data Retention controls." If you didn't change it before May 25, 2018, you will lose some of your Analytics data.
Disclaimer: The following information is not legal advice nor should it be considered legal advice. This information is meant to help you better understand GDPR and data retention controls within Google Analytics.
What are data retention controls in Google Analytics?
Around April 11, 2018, Google started sending email notifications to admins about their ability to retain data. The language was vague and implied that you would lose almost no data.
Here is a portion of the exact email: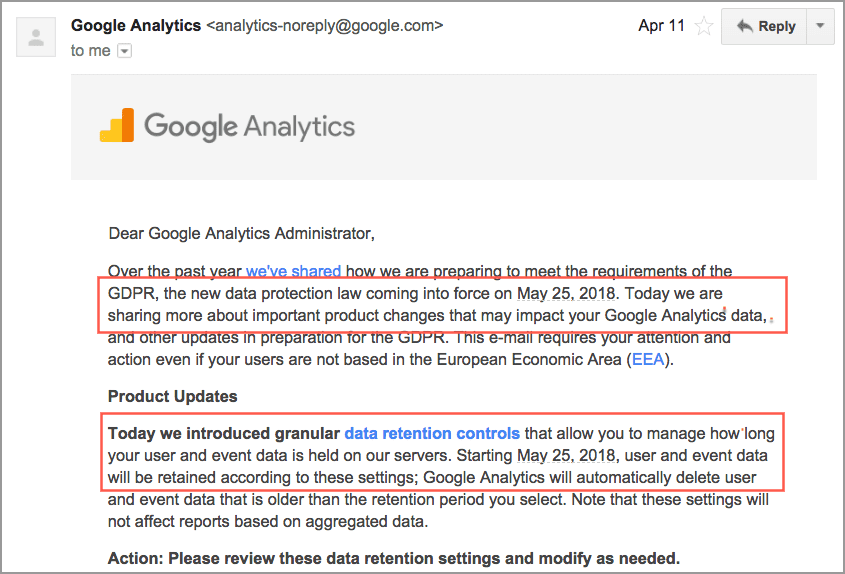 It says that this "may impact your Google Analytics data" and these controls "allow you to manage how long your user and event data is held on our [Google] servers."
This does not explain what data is truly impacted and why you should or shouldn't change this setting. Even on their support page they say you can "choose how long Analytics retains data before automatically deleting it."
Unless you spend a lot of time in GA, this information is basically useless.
More recently, they updated this language and created a default setting. It's now set at 26 months.
This means that some of your historical data prior to March of 2016 will not be retained (and will be deleted) from Google Analytics starting May 25, 2018.
What data is affected by the data retention controls in Google Analytics?
If you did not update your data control settings before May 25th to "Do not automatically expire", you will lose all non-aggregate data prior to March of 2016. This includes the following…
Advanced segments
Custom reporting
Secondary dimensions (which we use ALL the time)
Flow visualization reports
If you've never heard of any of these features in Analytics, you might not miss a thing. But the data can't be recovered so it's a good idea to retain it anyway. Your marketing team (or web development company!) may want the option to do this kind of analysis down the road.
What will not be affected in my Google Analytics reports?
Standard reporting will not be affected in Google Analytics. This means your very basic default reports will still be there. Overview, Acquisition, Behavior and Conversions. Great for reporting, not analysis.
---
| | |
| --- | --- |
| | "Essentially all of the aggregate reports will be available only for that date range. That means just the reports on the left-hand side of the navigation. Any time you do something custom to them like add a segment or a secondary dimension, they won't return data." – Charles Farina, Director of Growth & Development, Analytics Pros |
---
How to change your Google Analytics Data Retention control settings in 5 clicks
Even if you missed the deadline, you can still change it change. You will still be missing your non-aggregate data prior to March of 2016 but it won't reset every 26 months if you change it now.
It's easy. Before you start, log in to Google Analytics. It's literally five clicks once you're logged in.
1. Go to the admin section (if you're in reporting mode, it's the gear in the lower left)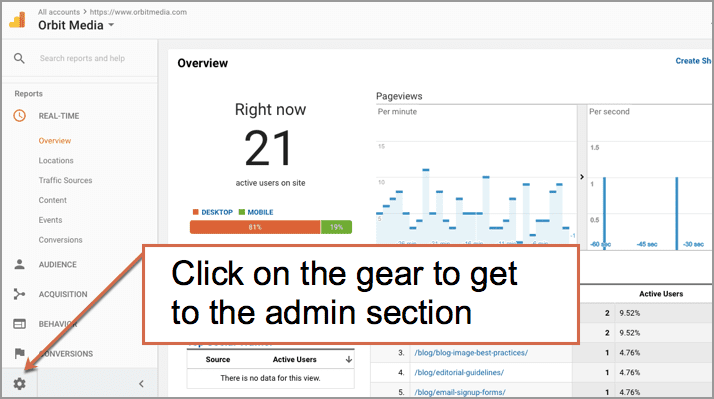 2. In the property column, click on "Tracking Info"
3. Click on "Data Retention"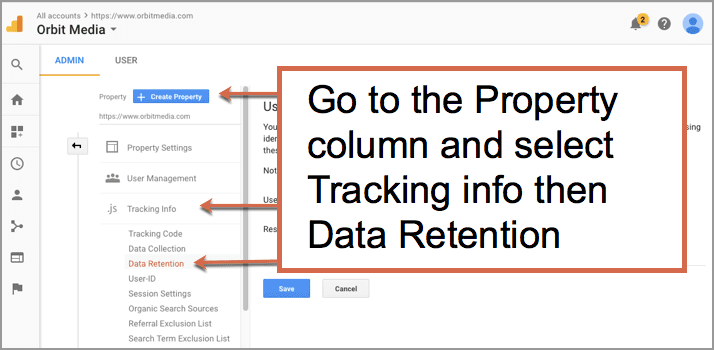 4. Change the "User and event data retention" dropdown to "Do Not automatically expire"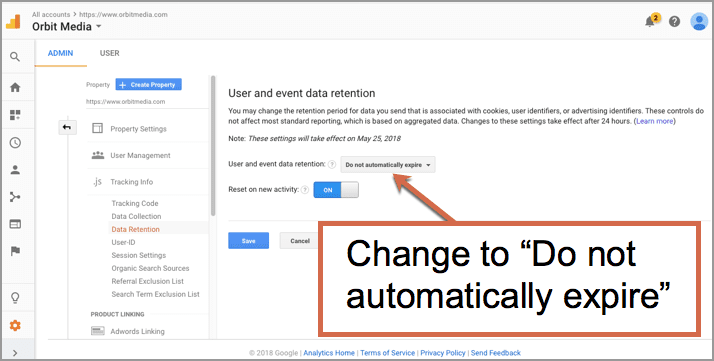 5. Click "Save"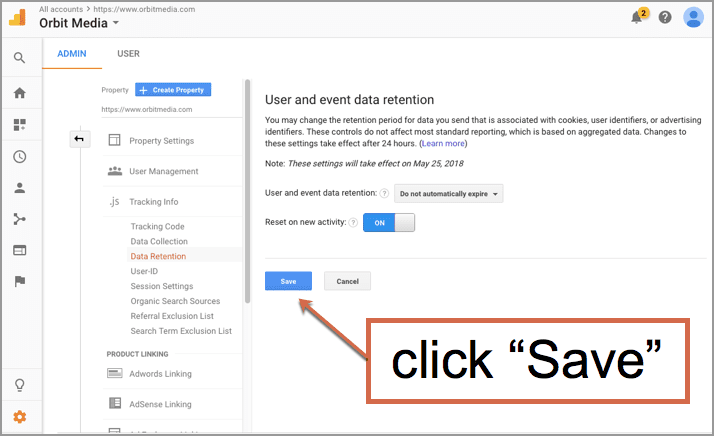 Or…
2-Click Shortcut!
If you see this popup box… set it to "Do Not automatically expire" and click "Save."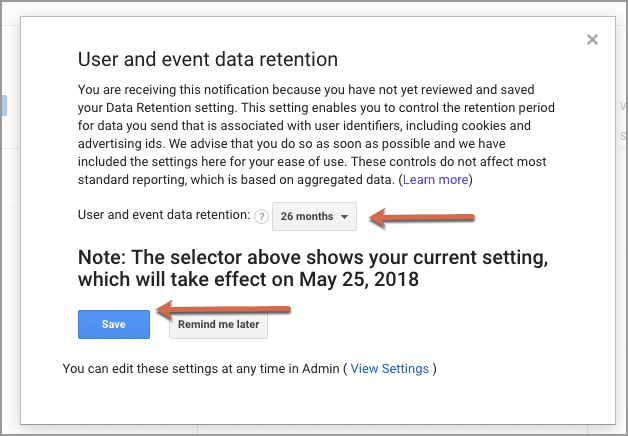 That's really all there is to it. You're all good now.