Shellie Argeanton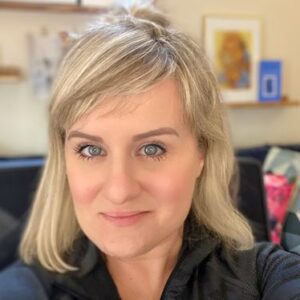 ---
Like Glinda the Good Witch of Web Design
Shellie Argeanton plans and designs bright, beautiful, user-friendly websites – from e-commerce shops to business directories – with her magic design wand. Over the past 15 years, she has developed and refined her design skills through a broad range of mediums and disciplines, including web design, mixed-media/fine art, information architecture, and visual communication. She holds a MFA in Visual Communication from the School of the Art Institute of Chicago and a BFA in digital art from Bowling Green State University.
During school, Shellie traveled extensively (from Sweden to the land down under) to research art therapy, painting, and sculpture. She has lived all over the country, but now she is happy to call Evanston, IL her permanent home. Outside of work, you can usually find Shellie practicing yoga and meditation, drawing, managing her Airbnb, sharing her art, or spending quality time with her two kids.
Fave Places
The Yoga Post
Surrounded by Art Supplies
Lighthouse Beach
Home with My Kids
Evanston, IL
Interests
All Things Art + Design
Typography
Early Childhood Development
Yoga & Meditation
Community Building

If you remember the shape of your spoon at lunch, it has to be the wrong shape. The spoon and the letter are tools; one to take food from the bowl, the other to take information off the page… When it is a good design, the reader has to feel comfortable because the letter is both banal and beautiful.
Interested in becoming an Orbiteer?
You're strategic, creative, collaborative and fun. You play well with others and enjoy challenging projects. You're transparent and appreciate processes. Above all, you love to make clients happy.