There's so much SEO advice out there. But not so much reporting on results.
So rather than write another how-to article, today we have a how-much article. We follow our own best advice, but then what happens? Does it rank? Does it get traffic?
Around half of the articles I write are search optimized. For these, I research keyphrases (look at search results, consider intent, estimate competition) and then indicate relevance (use the phrase, answer related questions, work in the semantically related topics).
Usually, the page does ok. It ranks for something and gets a dozen or so daily visits. This adds up to thousands of visits over time. I'm happy with this.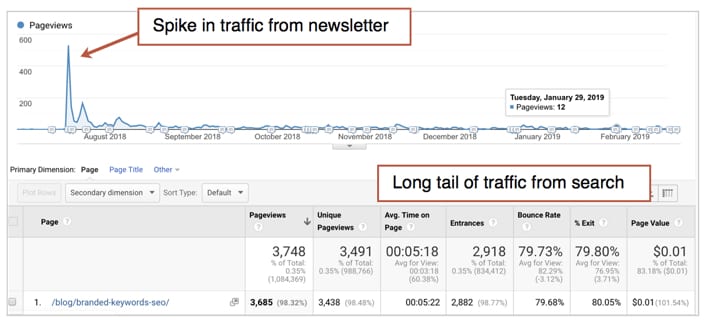 Sometimes the results are much better. Sometimes, much worse.
Let's break down the results for three real SEO examples. This post will answer the question, what does an SEO really do?
Note: These examples are blog articles, not sales pages. Sales pages target keyphrases with different intent, but the process is the same.
---
SEO example 1: Underestimating the competition
Let's start with the bad.
The page
People often ask us how to get started with content marketing, so over time, we've collected a lot of tips and advice. Eventually, we had a lot of raw material for an article and it was time to put a post together.
While researching keyphrases in the Moz Keyword Explorer, I noticed another super popular phrase: "how to start a blog."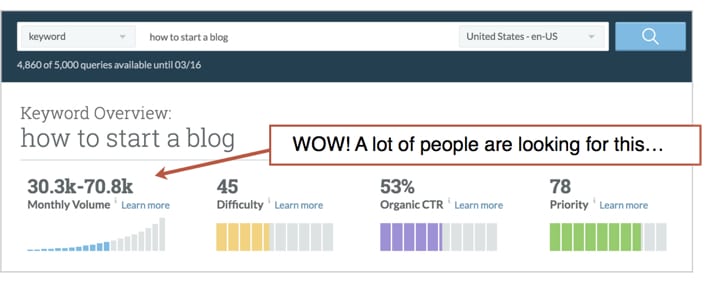 Great! And the difficulty is 45, well below our Domain Authority. That means the average authority of the other high-ranking pages are lower than ours. So we should have a chance of ranking with a strong SEO strategy, right?
The plan
I wrote a super detailed article called How to Start a Blog, complete with 4200 words of nice SEO copywriting, 21 tips, 11 contributor quotes and a video. It was about 20 hours of work. I really gave it my best.
The results
Did it rank? Nope! This page ranks so low that it doesn't show up in Moz. But SEMrush digs deeper so let's check there…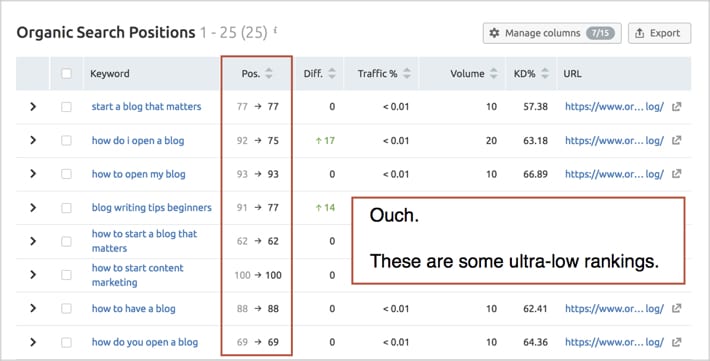 It was basically an SEO failure. It ranks 88th for "how to have a blog." According to Analytics, it attracts between zero and four visitors per day.
The takeaway
So what went wrong?
I should have looked more closely at the backlink profiles of those high ranking pages. Had I simply searched for the phrase with MozBar turned on, this is what I would have seen.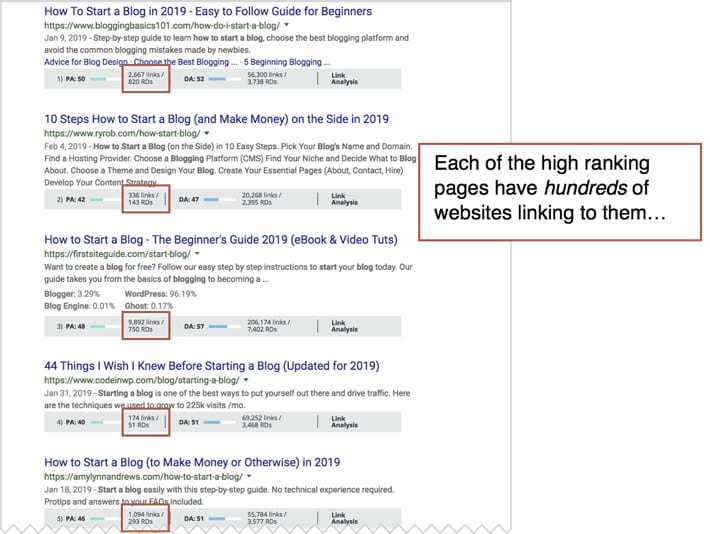 These pages all have huge numbers of linking root domains (websites). Hundreds of websites have linked to each. Of course, my page was new, starting from zero. It's like a high school athlete hoping to win an Olympic gold medal.
Sometimes, comparing Domain Authority isn't enough. I never should have targeted that phrase.
---
SEO example 2: Updating an old article that used to rank
Here's a story with a happier ending.
The page
Way back in October 2014, we wrote an article called How to Set Up Google Analytics. It was a detailed, how-to blog post with five short videos.
It used to rank pretty well. It appeared in the middle to bottom of page one in Google for "how to set up Google Analytics," attracting 250-500 visits per month. But after two years, the rankings fell. It was now on the middle of page two.
The rankings probably dropped because newer, better articles (and videos) were published on the topic. I don't think it had much to do with changes to Google's algorithm.
The durability of rankings are a function of the speed at which new content is published on that topic.
The plan
In December 2018, we completely rewrote the article and recreated the video. The new piece is a lot longer with a keyphrase-focused title and description. The goal, then and now, is to create the best piece of content on the internet for the topic.
But of course, we didn't change the URL, which is the key to updating content, a super-effective SEO strategy.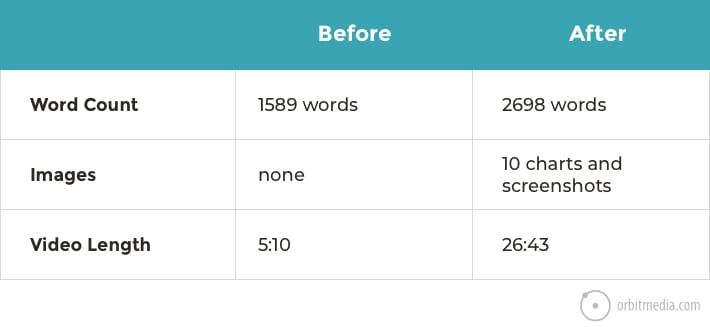 The results
The rank bounced back immediately. Here it is, tracked for the primary keyphrase in Moz.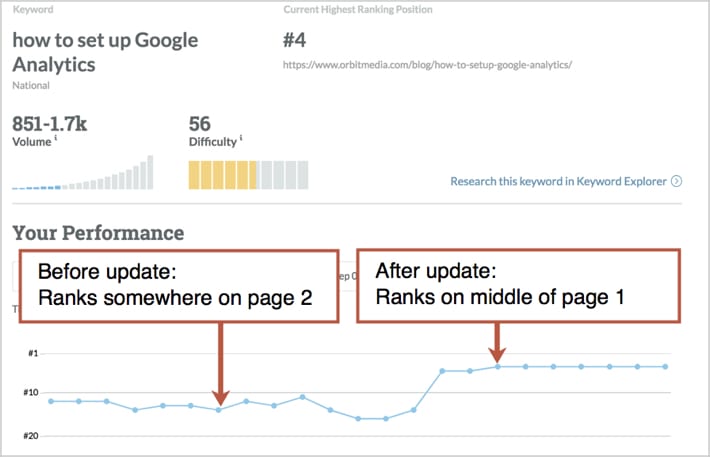 And traffic picked up accordingly. Here is the Google Analytics > Search Console > Landing Pages report. (This report is probably the best way to see traffic from search to any specific URL.)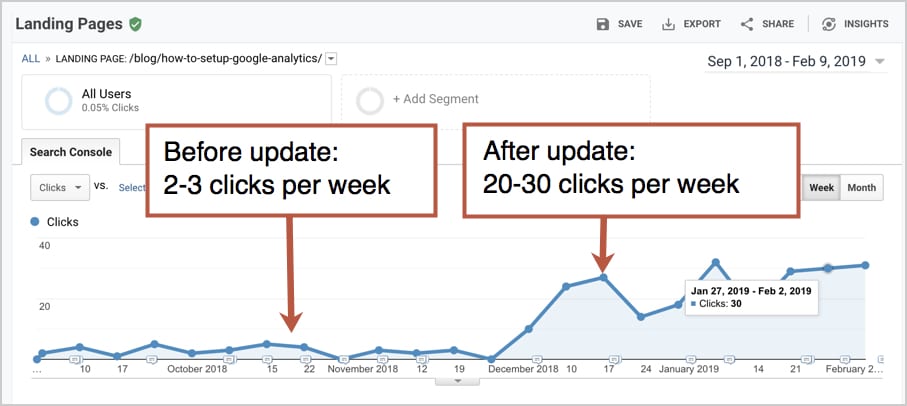 But with that kind of improved visibility, you would have expected an even bigger lift, right? This page is ranking high in Google for a great phrase. Why just a few dozen visits per week?
Let's look at the SERP (search engine results page) for the primary phrase…
WHOA! What's that?
Google is putting a huge video snippet at the top of the page. It's like a jumbotron. That thing is definitely going to lower the clickthrough rate of everything else that ranks for this phrase.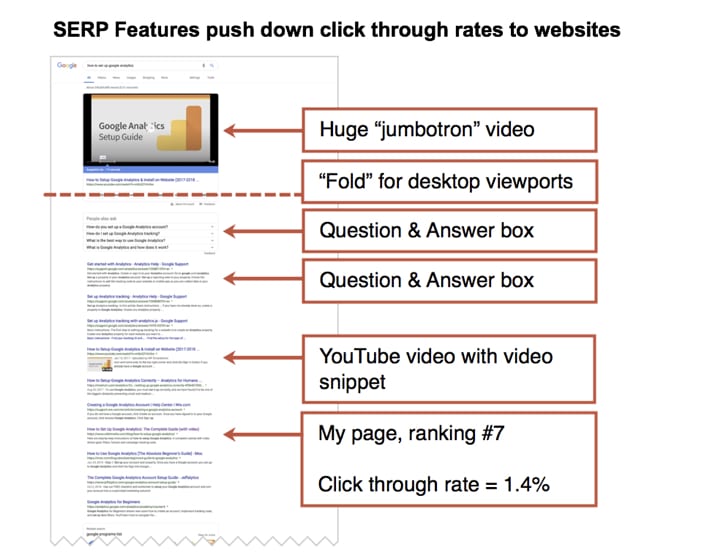 This is the biggest trend in SEO. It's not the rankings that change so much, but the makeup of the search results pages. Google is constantly adding new SERP features (videos, Q&A boxes, featured snippets, etc.) each of which reduces the click through rate to websites.
Changes to Google's algorithm affect click through rates, much more than they affect rankings.
I asked Rand Fishkin if he agrees with that statement. He does.
---
| | |
| --- | --- |
| | "This is why looking at Organic CTR% is so important (you can find that in Moz's Keyword Explorer) to prioritize words and phrases that actually have a shot of not just ranking but earning clicks as well." – Rand Fishkin, Sparktoro |
---
Google doesn't really want searchers to go to your website (unless you're an advertiser). They'd prefer a "zero click" search result.  These types of no-click search result pages are up 10% over the last 2.5 years.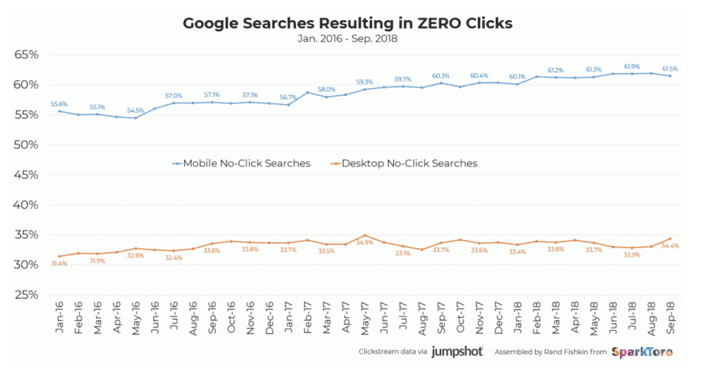 Source: Jumpshot, Sparktoro
What's next?
Better rankings don't always mean a lot more traffic. But there's more to life than search traffic. The new piece was actually a big success anyway.
The goal of our content strategy isn't to attract visitors for these information-intent phrases. It's to attract qualified visitors who search for commercial intent keyphrases. To do that, we need links and Domain Authority. And the relaunch of this blog article supported that goal beautifully.
Here are the link metrics of that page before and after. The new piece attracted links from a dozen websites so far.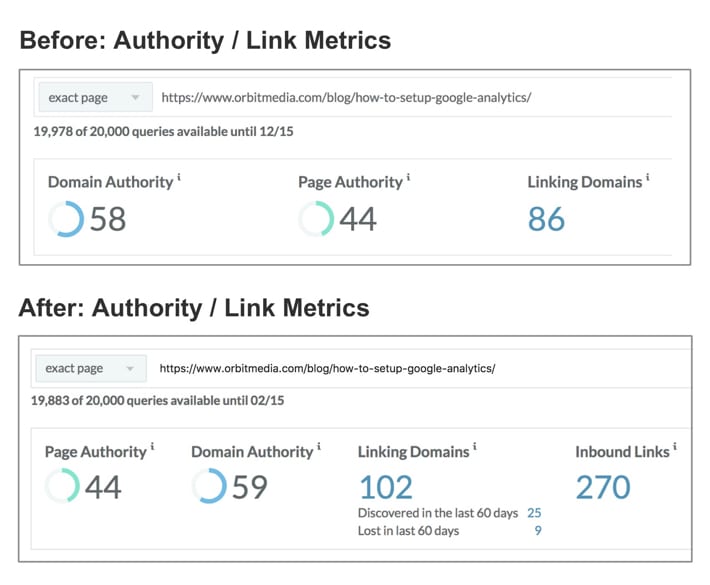 And one unexpected benefit: that video is doing well in YouTube. 1,600+ views and counting.
The takeaways
Updating old content is often a fast way to higher rankings
Ranking isn't the same as traffic. Impressions times the CTR is traffic.
Beware of keyphrases that have search results pages crowded with features. They'll have low CTR.
Look for the indirect benefits of content, such as new links and Domain Authority
---
SEO example 3: A new keyword-focused article
It's time for some good news.
The page
Putting a little more effort into a social media post can get you a lot better results. After giving this advice in presentations, in the book and in person, we decide to write it up as a blog post: The Social Media Post Checklist.
The plan
When you search for the phrase "social media post," Google suggests several more specific phrases. Most of these aren't relevant to the article. But one of them is: "social media post examples."

After a bit more digging (in Google and in keywordtool.io) I had a list of phrases that seem relevant. Next, I started entering those into Moz to see the search volume and competition. It shows super low search volume for each phrase.
I keep all this research as notes at the top of our simple Google Doc Writing template.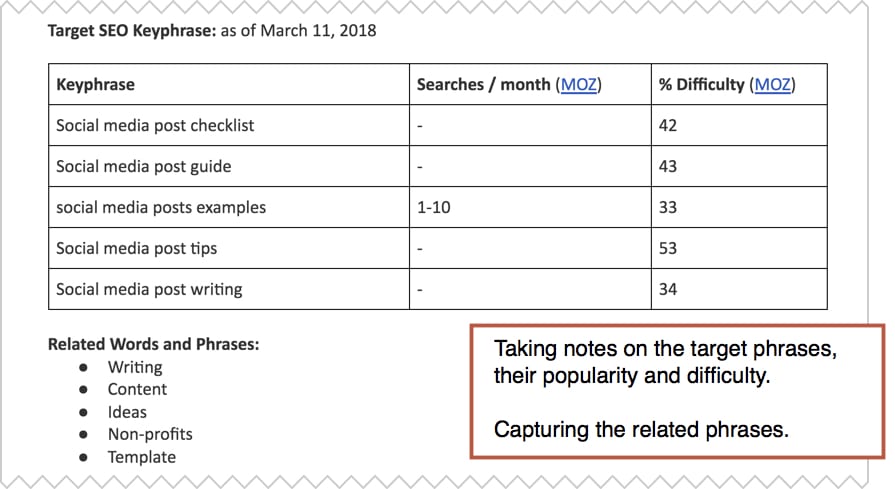 This suggests almost no one is looking for these phrases. This doesn't deter me a bit. I proceed to write a very detailed article with 1900 words of SEO copy, 15 charts and screenshots and three contributor quotes. The target phrase is in the title, meta description and header / headline. The body text includes each of the related phrases from the list above.
After we published it, I was able to find ways to mention it in four off-site guest posts and contributions. Ask me later how to do this kind of search-savvy PR. Very effective!
The results
The post did well as a newsletter and in social media. But the SEO results were not impressive at first. It started out in the middle of page two of Google for the primary keyphrase.
The rank starts to climb after the offsite links and mentions. Before long it's at the top of page one. Here's the ranking for the primary phrase tracked in Moz.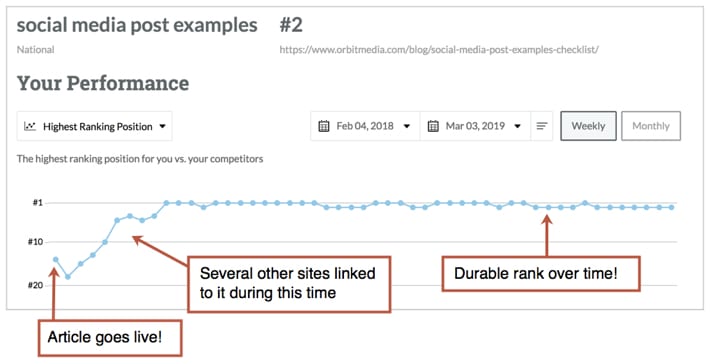 And here is the traffic, tracked in Google Analytics. The page gets 50+ visitors per day and attracted 15k visitors and counting. Not bad!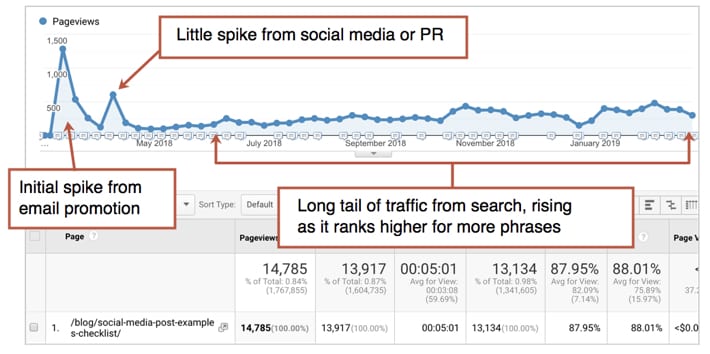 The takeaway
This SEO example highlights a big problem with keyphrase research: search volume is always underestimated. The tools showed little or no search volume for the target keyphrases, but the page gets a lot of traffic.
According to Moz, this page should be getting just a few visits per day. How could this be so wrong?

The answer: when you rank, you don't just rank for the primary phrase. You rank for dozens or hundreds of phrases related to the topic. This is semantic SEO and it's the key to modern-day search.
According to the Google Analytics > Search Console > Landing Pages report, this page ranks for 590 different phrases.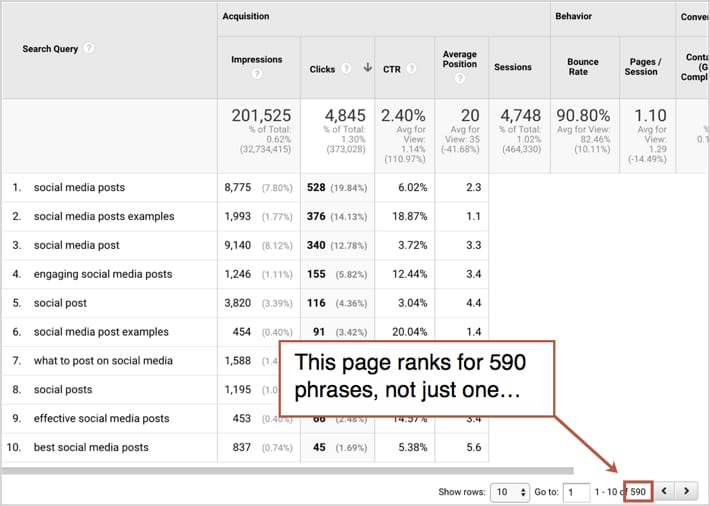 So don't pay too much attention to search volume. Or just multiply it by 100. Or use it to compare relative popularity: is phrase x more popular than phrase y?
Target any phrase as long as there is some evidence that people are searching for it. If Google suggests it, that's good enough.
Use keyphrase research tools to help choose a primary phrase, based on competition and popularity compared to other phrases. This will be in the title and header.
Then write the best article for the overall topic!
Optimization is never finished
To me, the phrase "search engine optimization" suggests an ongoing cycle of research, creation and improvement. The stories of these articles aren't over yet.
Click through rates from Google may keep declining. The competition is getting smarter. But it's still worth fighting for ever-better results. This blog attracts 1.3M visitors per year. That's a 30% increase year-over-year.
Why? Because we keep improving.
Here are some ideas we have to get even better results for the SEO blog examples above.
Change the keyword-focus to target less competitive phrases
Build links to them from guest posts and contributor quotes
Rewrite these articles again to make them more useful, more relevant
Digital ink is never dry.
Care to share your own examples or results? If you write a similar piece, please link to it in the comments below!