The road to relevance is long. But it starts with this simple first step: we declare our mission. This little bit of text is our content marketing mission statement and it's the foundation of our content strategy.
This is where we'll take our stand.
This is the cornerstone of our content strategy. It states what we'll be publishing, who it's for and why they'll care.
Our content mission will support (or reject) every action we take in our content marketing efforts. Not sure about something? Check the mission. If it doesn't fit, leave it out.
Documenting our mission statement is surprisingly simple, yet most content marketers haven't done it. To make it easy, here's our content mission template. All you have to do is fill in the blanks.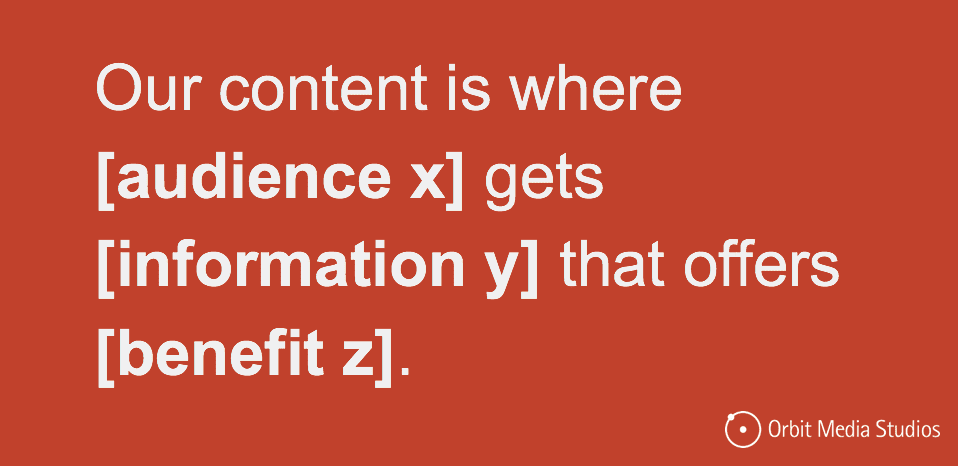 Note: By "our content" we are referring to all of our non-sales content. It's everything we create, publish and share in our content marketing including:
Our blog, articles and resources
Our newsletters and any other emailed content marketing
Our social media posts
Our videos, events, podcasts and any other format for content
Let's take a closer look at X, Y and Z. Then we'll review how to publish it and check out some examples.
Audience X
Unlike the target audience for our products and services, the target audience for our content marketing may be very broad. In content marketing, we have two target audiences and two types of visitors:
Potential customers we hope to sell to
Anyone we can help through our expert advice
That larger audience of people who are interested in our content can drive huge, indirect benefits. This includes a world of potential visitors, followers, subscribers and influencers. Without this second audience, we are unlikely to attract enough of that first audience to create steady demand.
Information Y
These are the topics and formats that we will publish. It is the overlap between the topics that we know and can teach, and the topics that our audience wants. When we share this expert knowledge, we pull our audience toward us.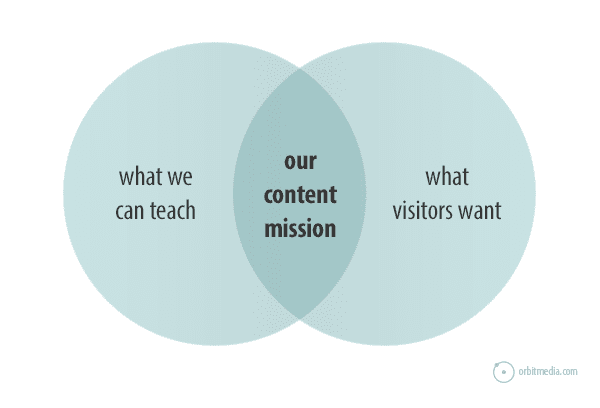 These are words commonly found in this part of the mission statement:
Tips (most common)
Advice
Insights
Strategies
Stories (common for content programs at non-profits)
Reports
Ideas
Inspiration
Checklists
Research (most effective)
News*
Trends*
* Note: There are fundamentally two kinds of content strategies: those focused on news and those focused on evergreen content. They have very different challenges and opportunities (cadence, SEO, etc.). 
Although it may not be documented in the mission, keep in mind that the types of content will go beyond the topics, and include the formats for content, such as:
Original research
Strong opinion
Guest posts
Interviews and roundups
Video, audio, live events
Great content marketers publish more than an endless stream of blog posts.
Benefit Z
It has to be helpful. Our mission must name the specific benefits that our content offers our audience. If there is no benefit to them, we won't win their attention, we won't attract visitors and we won't generate any demand.
So our mission and every piece of content within it must answer this question: Why do they care? How does this help them? What task can they complete once they are finished reading this? 
This is the core of our mission.
Let's check in with some pro content strategist to see how they approach this:
---
"We always write mission statements from the following two angles: why type of content are we going to create that satisfies audiences and will help our business? We're a B2B healthcare content marketing company, so when we create content we ask 


Does this content help our audience do their jobs better?
Does this content reinforce the idea that we're a valuable resource? 

If it doesn't do BOTH of those two things, we don't create it."
---
| | |
| --- | --- |
| | "The mission statement formula we use with our clients is "To become a destination for WHO, on WHAT topic, and WHY should they visit." The "destination" part is key because it confirms for the company that this is about attracting relevant people who are interested in a topic for a particular benefit." |
---
"A good content creation purpose explains who you help and how. It's the basis of a content strategy; it energizes both the content creator and their audience. Their audience recognizes a team is writing and sharing to help (rather than just sell), and that's why they'll start following and come back for more. 
From a content creation perspective, a purpose (or mission statement) kindles your creativity and enthusiasm, and it helps stay on topic so it's even a good foundation for SEO. Also, it's not fixed. It can evolve over time."
---
3 places to publish your content marketing mission statement
This is the promise we are making to our audience. Why keep it a secret? There's no reason not to share it publicly. Here are three places to post it:
1. The top of the blog
If the top of our blog just says "BLOG" is big bold letters, that isn't really telling our visitors much about your content. We can do better.
Take the [Information Y] section of your mission statement and post it to the top of the blog. This immediately lets them know what you've got for them.
This is also an excellent place for an email signup box. Put them together and it should look something like this: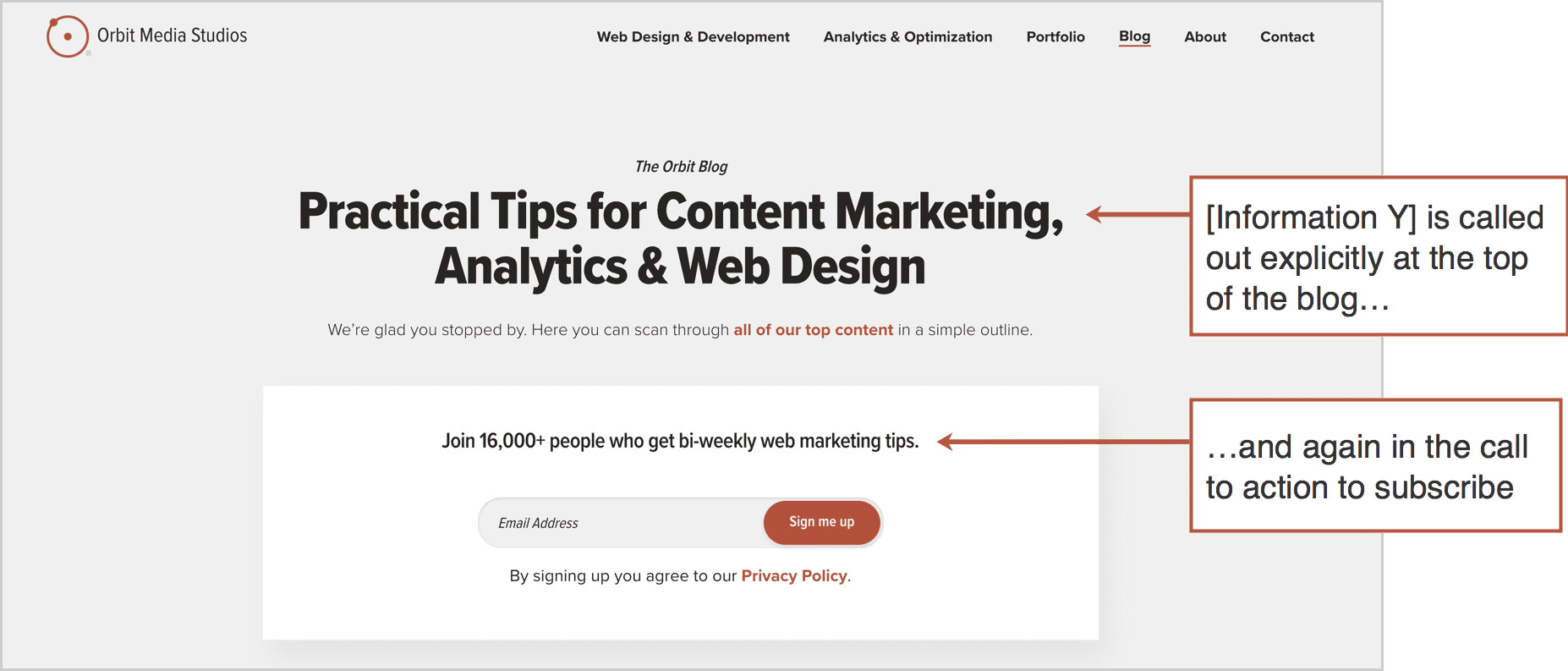 2. All of your other email signup calls to action
In popups, in the footer, next to articles, inside articles and everywhere else our visitors can subscribe. Every email signup box will work harder (and grow our list faster) if we adapt your mission statement into a descriptive CTA.
This is the second of the three P's of email signup forms: prominence, promise and proof. For example, if your blog is about medieval defense, tell people that's what they'll get if they subscribe.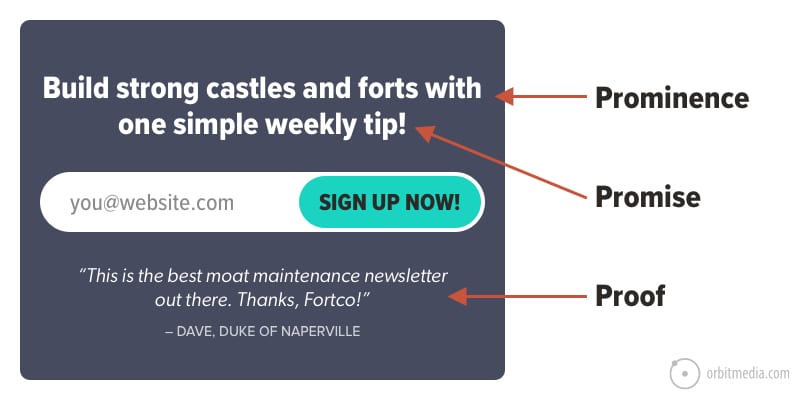 If our signup form just has three lonely words "subscribe for updates" we're not promising anything. It would be weird if anyone subscribed.
3. Social media bios
A lot of social profiles have a mini-about us statement as the bio. Yes, that's relevant, but it's not very compelling. It doesn't really give people a reason to click the follow button.
Similar to the email signup CTA, when we adapt our mission into a social media bio, we give people a reason to add us to their social streams. We're telling them what they'll get if they follow us. Just look at the difference: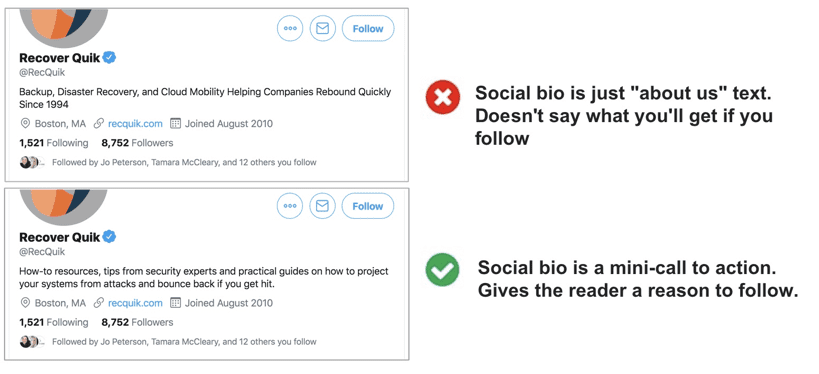 People are far more likely to do something if you give them a reason to do it. That's what marketing is all about, right?
How does the content mission statement affect success?
The simple act of documenting our mission makes a difference.
According to the 2021 B2B Content Marketing Benchmarks, Budgets and Trends, marketers who document their content strategy are far more likely to report success in their marketing.
Brands that have a documented content strategy are three times as likely to say they're effective at marketing.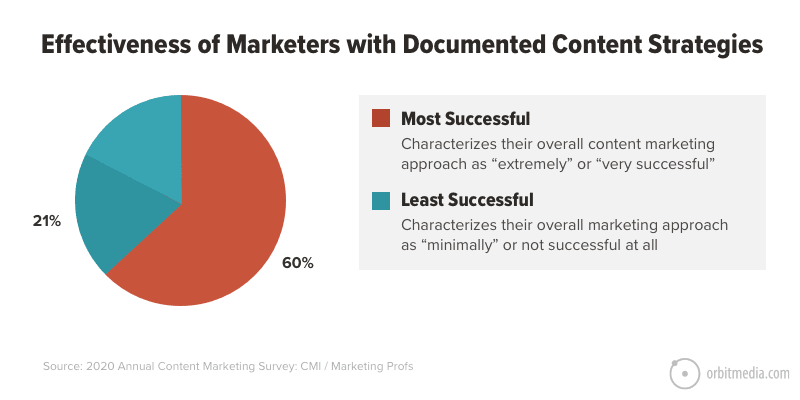 So if it has such a strong correlation with success, you would expect it to be a common practice. It is not. Only 43% of marketers have theirs written down.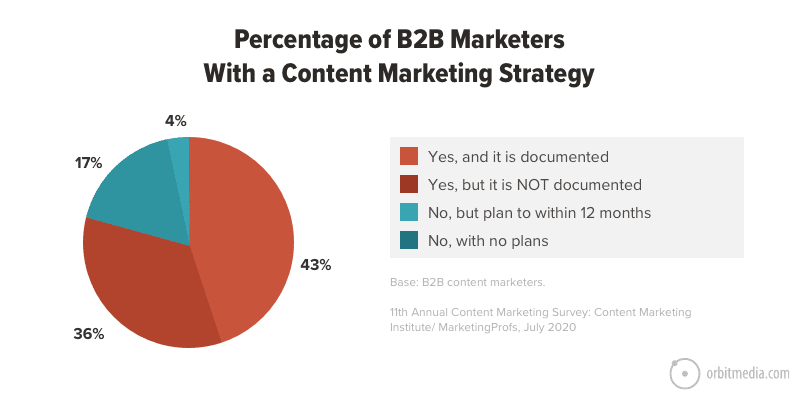 12 content marketing mission statement examples
Here are some examples of content marketing mission statements for both B2B and B2C companies. Notice that although they don't all follow the template exactly, each mission specifies the audience and the benefits they receive when they consume the content.
Swift Passport
"Where international travelers get travel tips and news to make travel easier."
Enchanting Marketing
"Help small business owners find their writing voice so they can share their ideas with gusto, connect with their readers, and sell more without selling their soul."
Tellabs
"The best source for info on optical LANs. We show IT buyers how to address tech and business challenges, identify trends, reduce expenses and improve user experiences."
Working Moms Only
"To Supply the tools that can give every working mom the ability to lead a healthy, wealthy and more balanced/blended lifestyle."
Digital Photography School
"A website with simple tips to help digital camera owners get the most out of their cameras."
Home Made Simple
"Enable women to have more quality time with their families."
Indium
"Help engineers answer their most challenging industrial soldering questions."
Inc Magazine
"The place where entrepreneurs and business owners find useful information, advice, insights, resources and inspiration for running and growing their businesses."
Private Equity Firm
"To provide clients, prospects, intermediaries and investors with industry, market and economic insights, original research, and financing strategy stories and outcomes to help them make better decisions about corporate and project financing."
Raptitude
"Raptitude is a blog about getting better at being human – things we can do to improve our lives today."
This blog teaches quality-of-life-related skills, such as managing moods, developing habits and enjoying ordinary moments.
Nutanix
"What's next in Enterprise Cloud."
This editorial-driven news site takes an industry insider's perspective, profiling innovative people, sharing thought leadership insights, and reporting on trends sparked by the enterprise cloud revolution and digital transformation. Michael Brenner profiled the creation of this strategy and the award-winning outcomes here.
Orbit Media
"The Orbit blog is where digital marketers find practical advice on content marketing, AI, GA4 and web design. Our goal is to help you get better results from the web."
Next, a bit of content marketing history…
Most digital marketers had never heard of the content mission statement until 2011. This was the year of the first Content Marketing World, the famous conference created by Content Marketing Institute and Joe Pulizzi.
Year one, Joe was on stage telling marketers to create mission statements for their content programs. I always assumed he created the idea. But did he? Let's ask him a few questions about the origins…
Q: Hey, Joe! Did you create the idea of a content marketing mission statement?
A: I don't know if I started it, but I think I was the first person talking about it at marketing events.
Q: Where did the idea come from?
A: I grew up in publishing and sat through many editorial meetings. The key to those editorial meetings was the editorial mission statement. That statement guided what the editors could and could not cover. Many times a journalist would have a great news idea, but that was always run past the mission statement. If it didn't fit within the parameters of the statement, then it was a no go from the start.
Q: When did you start using them?
A: When I first started working with product brands on their content in 2000, it was easy to notice that most of these companies didn't have a guiding editorial statement. Most were creating content to drive product sales, or they wanted to be known for a certain content area, but weren't precise on the audience. Others were sending all sorts of content (long-form, video, audio, etc.) with no consistency at all.
So shortly after that our team started teaching the creation of a content mission statement. Basically, the creation of an editorial mission statement for non-media companies.
Q: When should marketing get started on it?
A: This was always the first thing to be created as part of any content marketing effort, so we know exactly who the audience was, exactly what kind of content we were creating, and exactly what was in it for the audience. That last part was the biggest.
Q: Any tips for creating one?
A: Every great editorial mission statement contains the target audience, what the editorial brand would deliver (what kind of content), and ultimately the outcome for the audience (benefit).
---
| | |
| --- | --- |
| | "The mission statement never says anything about what the company is trying to sell. It's 100% focused on the needs of the audience. That's the key." |
---
3 more marketing statement templates
Here are three more statement templates we can use to keep our marketing on track, from the big picture to the small picture.
1. The marketing positioning statement template, by Susan Silver
Our content marketing mission statement is specific to our audience and our content.
But what about the bigger picture?
Our marketing positioning statement (also known as a value proposition) describes our place in the market. I highly recommend using Susan Silver's marketing positioning template to sharpen the focus of your marketing in general.
Put simply, this describes why we are in business. How we fit into our market.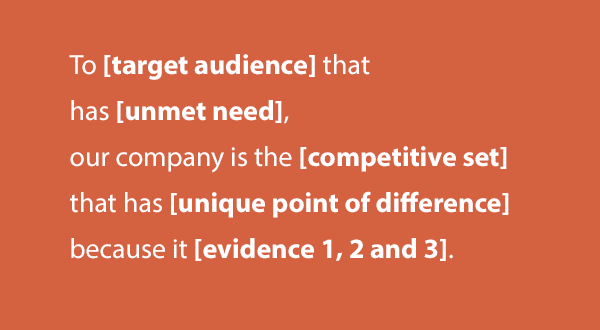 Fill in these blanks before doing any marketing.
The target audience should be as specific as possible. The unique point of difference explains how we are unique from the other businesses in our competitive set. The brilliance of this template is that it forces us to name the unmet need our business fulfills and how we are uniquely position to do it.
Then we have to back it up with evidence. These are the reasons they should believe our claims. Don't go to market without evidence.
Example: GiveForward
To people who have friends with cancer, who are in financial need, who want to help them in a meaningful way, GiveForward is the online medical fundraising tool that empowers people to help their ill friends financially. It has an easy-to-use process, real fundraising coaches to help and has helped people raise over $170M since 2008.
Here it is broken down: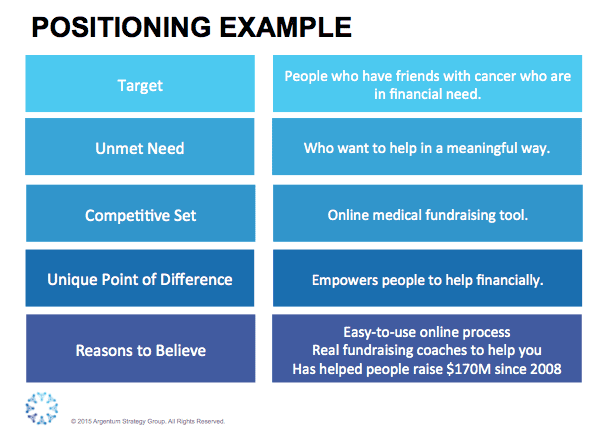 The marketing position statement is general to the entire business, not specific to content. And it's typically an internal document; it isn't made public or posted online.
2. The detailed content mission statement template, by Meghan Casey
Here is a mission statement template that goes one level deeper. Meghan is pushing us to define our content and outcomes more specifically. The final step in this template is very powerful since it forces us to name the actual tasks that our content will enable our audience to complete.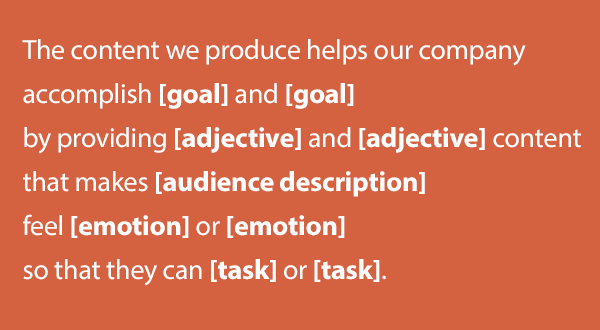 Fill in these blanks before going deeper into content marketing.
3. The social media mission template, by Laura Fitton
At this level, it gets easier. Social media falls under content marketing, so this template will look familiar. Our social media mission is a subset of your content marketing mission.
Laura encourages marketers to document their mission for each social network since different content may be shared on different networks.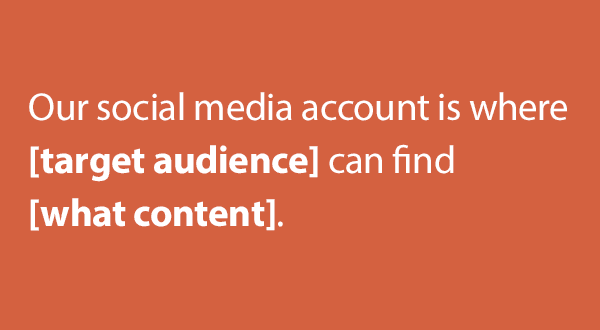 Filling in these two simple blanks for each social network you use will guide us in what to share and how to engage with each community. Is it inspiration? Share quotes. Is it educational? Share links. Documenting this will help us stay on topic.
Fill in these blanks before becoming active within a social network.
The most expensive mistake: Missing our target
The road to success is littered with burning wrecks of marketing campaigns that targeted the wrong audience, created the wrong content or tried to build relevance in an irrelevant social network.
It takes less than an hour, it correlates with success and it's the best way to avoid a marketing disaster. So before we start a blog, let's put ourselves on a mission!